2019 SUMMER RECEPTION - THE POWER OF EFFECTIVE NEGOTIATION
About this Event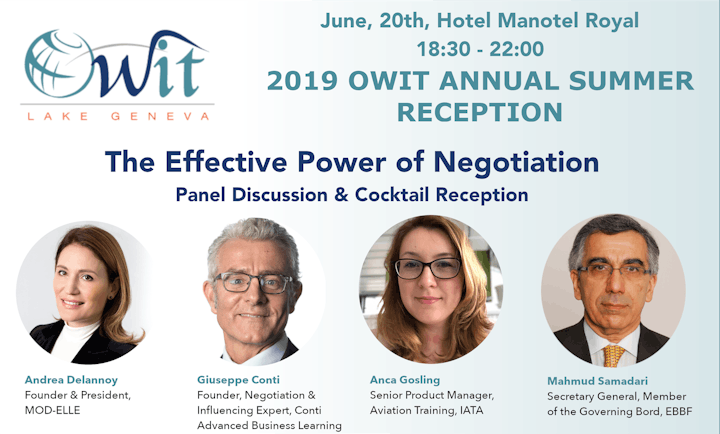 During the evening, we will discuss how to plan before a negotiation, how to ask effective questions, how to 'read' the other's behaviour and how to bargain for the best deal possible will be explored. It is also the best time expand your network and liaise with like minded professionals!
At the end of the evening you'll be able to have enough tools in your hand to conduct an effective negotiation. You will be inspired and empowered!
Our distinguished panelists:
-Andrea Delannoy
-Giuseppe Conti
-Anca Gosling
-Mahmoud Samandari
Panel moderator: Nicole Pitter Patterson, VP Partnership, OWIT Lake Geneva
When and Where?
20th of June, 18.20-20.30
Manotel Hotel Royal, Rue de Lausanne 41-43, 1201 Genève
#network #negotiation #event
Join us for a lively discussion and a festive networking together with like-minded professional women! Should you want to submit any questions for the panelists ahead of the event, please email us at administrator@owit-lakegeneva.org.