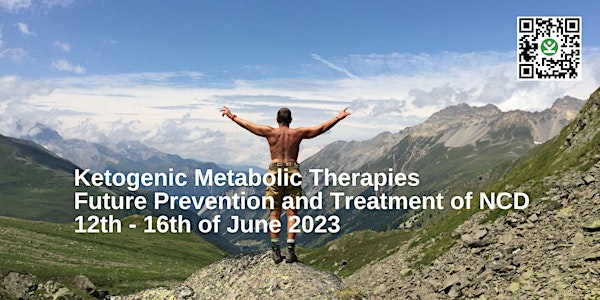 3rd International Keto Live Conference in Switzerland 2023
Leading international scientists & physicians present & discuss Ketogenic Metabolic Therapies as a medical tool in the fight against NCD
By European Keto Live Centre
Date and time
Mon, 12 Jun 2023 13:00 - Fri, 16 Jun 2023 13:00 CEST
Location
KURHAUS BERGÜN, Switzerland Puez 112 7482 Bergün/Bravuogn Switzerland
About this event
Our five-day conference in Switzerland is designed for physicians, medical and healthcare professionals - but welcomes everyone interested to attend.
To meet, listen and discuss new science and medically sound information on using Ketogenic Metabolic Therapies to improve and regain Metabolic Health in the fight against Insulin Resistance and Non-Communicable Diseases.
Our confirmed speakers:
Assoc. Prof. Dr Dominic D Agostino, United States of America, Dr Wafaa Abdel Hadi, Egypt, Dr Ignatio Curanta, Argentina, Asst. Prof. Dr Christopher Palmer, United States of America, Prof. Dr Adrian Soto Mota, Mexico, Dr John Schoonbee, Switzerland, Patricia Daly M.Sc. dipNT, mBANT, rCNHC, Ireland, Dr Ian Lake, United Kingdom, Prof. Dr Benjamin Bikman, United States of America, Dr Elke Lorenz, Germany, Prof Dr Cirhuza Cikomola, the Democratic Republic of the Congo, Prof Dr Christoph Wilhelm, Germany, Dr Albert Danan, France and Dr Georgia Ede, United States of America, Dr Bernd Löffler, Germany, Dr David Unwin, United Kingdom, Ivor Cummins BE (Chem), CEng MIEI, Ireland, Dr Iain Campbell, United Kingdom, Beth Zupec-Kania RDN, CD, United States of America, Prof Dr Johannes Kovarik, Austria, Prof. Dr Thomas Weimbs, United States of America, Dr Jean Pierre Spinosa, Switzerland, Dr Jen Unwin and Heidi Giaever, United Kingdom
The Conference language is English.
German simultaneous translation can be booked separately.
CME/CPD Credits - like for the previous Conferences, we are applying for certification at the UEMS-EACCME®, the European Union of Medical Specialists - European Accreditation Council for CME, the SGAIM Swiss Society for General Internal Medicine, the SSMO-SSOM-SGMO Swiss Society for Medical Oncology, the SGED-SSED Swiss Society for Endocrinology and Diabetology, the SNG Swiss Neurological Society, the SVDE ASDD Swiss Society for Dietitians and Nutritionists and BANT the British Association for Nutrition and Lifestyle Medicine.
Accommodation
The accommodation in the beautiful historic Hotel Kurhaus Bergün and the Keto Meals must be booked separately. Please note that the Hotel is entirely reserved for our Conference (all booking pages & availability checks will show a fully booked Hotel), so booking is only possible directly at the Kurhaus
via phone at +41 81 407 22 22, E-Mail info@kurhausberguen.ch
or using the following online form
During the two annual closings of the Kurhaus, from the 30th of October till the 8th of December and in spring, from March 26th to the 4th of May 2023 the reservation team is only available Monday to Friday from 9 am to 12 am.
If the Hotel is fully booked, or if your desired room category is no longer available, the friendly staff will help you to book accommodation in the neighbouring hotels.
All Meals are included in the Hotel Kurhaus accommodation price. Breakfast, Lunch-Buffets, and 3 Course-Dinners served during the Conference are Keto, created by the dedicated Kurhaus Chef and his kitchen team, cooked with fresh organic local products only.
If you attend the Conference, but you are not staying at the Hotel Kurhaus, or your family and friends who don't attend the Conference like to join you for the meals - please book the Keto meals separately at the Hotel Kurhaus.
All our delicious Keto-Coffee-Breaks during the Conference and our "Get Together" are included in the Conference fee.