Dieses Event ist beendet.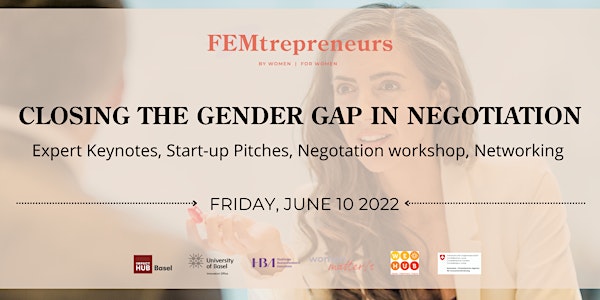 6th FEMevent: Closing the Gender Gap in Negotiation
In our second in-person event, we invite our community for an inspiring exchange to spark self-belief and help you close better deals.
Zeit und Ort
Veranstaltungsort
launchlabs (Schweiz) GmbH 192 Dornacherstrasse Gundeldinger Feld, Halle 8 4053 Basel Switzerland
Karte und Wegbeschreibung
Zu diesem Event
Negotiation is a critical skill for every founder – either to attract potential employees, get suppliers on board, bring in investors to a company, or close deals with customers.
Deeply-rooted societal roles are seen as the source of the gender gap in negotiated outcomes: Studies show that women still tend to achieve less economic results in negotiation than their male counterparts.
How can female founders narrow the gap in negotiated results with investors or business partners? What strategies can female founders apply to improve success in negotiation? How can you avoid pitfalls in entrepreneurial negotiation?
At the 6th FEMtrepreneurs event, we will gather our community of experts and founders to help you spark your self-belief so you can close better deals with investors, clients, or suppliers of your startup.
Who is this event for?
• Is "negotiation" a skill you want to further develop?
• Are you looking for practical tips to improve the outcomes of your deals?
• Do you want to hear different perspectives on the topic?
• Would you like to meet other female entrepreneurs and like-minded individuals?
• Men are of course cordially invited to join the event and (most importantly) become allies to women entrepreneurs
After two years of connecting virtually, we are extremely excited to meet you in our second in-person event! And also, bring your friends, and your ideas and mingle!
We are looking forward to your presence!
AGENDA
8:30 Arrival & Coffee
9:00 Welcome & Intro
Daniela Prado Zumthor & Leonie Kellner (FEMtrepreneurs)
9:10 Panel Discussion "Closing the Gender Gap in Entrepreneurial Negotiation"
Panelists: Daniela Bar-Gera (Head of Office Plug & Play), Sarah Kim Harbarth (founder Kuori), and Carl Emerson (founder Insideout Solutions).
Facilitation: Catherine Riesen (CommVersa)
10:00 FEMpitching Session
Startup pitches of participants of the FEMseries Program
10:45 Workshop "Becoming a Successful Negotiator by Embracing Rejection"
Carl Emerson (Insideout Solutions) & Gaby Rockmann
11:45 Networking
12:00 End of the FEMevent