Cet événement est terminé.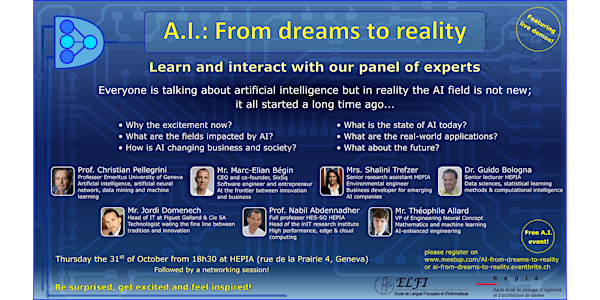 A.I.: From dreams to reality
Join us and learn more about the state of artificial intelligence today!
Où et quand
Lieu
HEPIA 4 Rue de la Prairie 1202 Genève Switzerland
À propos de cet évènement
Today, everyone is talking about artificial intelligence but in reality the AI field is not new. It all started a long time ago...
• Why the excitement now?
• What is the state of AI today?
• What are the fields impacted by AI?
• What are the real-world applications?
• How is AI changing business and society?
• What about the future?
We invite you to an exceptional panel discussion with our experts.
An impressive line-up of brilliant experts will answer all these exciting and relevant questions, but also the questions you may have. They will share with you their knowledge and experience.
Therefore, you will have the opportunity to interact with the experts, discover and learn from this outstanding event. So bring your questions!
This event will also feature impressive "live demos" showing the power of AI.
The experts
Prof. Christian Pellegrini
Professor Emeritus University of Geneva
Artificial intelligence, artificial neural network, data mining and machine learning
Mr. Marc-Elian Bégin
CEO and co-founder, SixSq
Software engineer and entrepreneur
Mechanical Engineering, specialising in Aerospace
At the frontier between innovation and business
Mrs. Shalini Trefzer
Senior research assistant HEPIA
Environmental engineer
Business developer for emerging AI companies
Dr. Guido Bologna
Senior Lecturer HEPIA
Data sciences, computational intelligence
& statistical learning methods
Prof. Nabil Abdennadher
Full professor HES-SO HEPIA
Head of the inIT research institute HEPIA
High performance, edge & cloud computing
Mr. Jordi Domenech
Director of IT at Piguet Galland & Cie SA
Technologist waling the fine line between tradition and Innovation
Mr. Théophile Allard
VP of Engineering, Neural Concept
Mathematics and machine learning
AI-enhanced engineering
Special guest:
Prof. René Schumann
Professor UAS
Business Information Technology
Special Interest Group for Artificial Intelligence and Cognitive Science
Opening address by Mr. Pierre Maudet "Conseiller d'Etat" Minister in charge of the Economy Department for the Canton of Geneva.
Agenda
18h Doors open
18h30 Introduction and opening address
18h45 Panel discussion with our experts (three parts):
The current state of AI and the real-world applications
Impact of AI on business and society
The future…
20h45 Networking session & drinks with appetizers: meet the experts and other brilliant people
Do not miss this tremendous and free event!
Registration also possible on: www.meetup.com/AI-from-dreams-to-reality