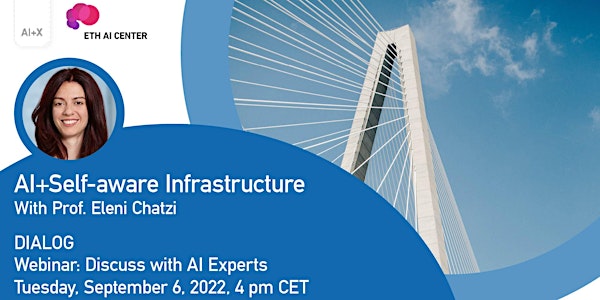 AI+X: Dialog on Self-aware Infrastructure
AI+X: Dialog on AI in Monitoring technical infrastructure
About this event
Webinar: Discuss with AI experts and join us for a webinar on AI solutions for self-aware infrastructure!
Join us to learn about the latest research results and discuss future implications with our community from academia, industry, and start-ups. In this webinar, we will be sharing the results & invite to a public conclusion.
Please register if you want to participate.
Agenda
16:00 Welcome
16:05 Recap AI solutions for Geobiology
16:10 Dialog with Prof. Eleni Chatzi, Institute of Structural Engineering (IBK), ETH Zurich lead by Chris Luebkeman, Strategic Foresight Hub ETH Zurich with Q&As
17:00 End
Link
Zoom link to access the AI+X Webinar: https://ethz.zoom.us/j/67932699086