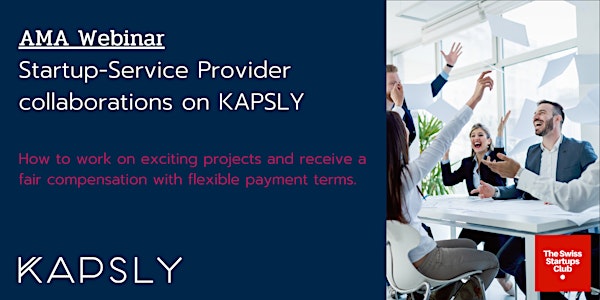 AMA Webinar: Startup-Service Provider collaborations
Learn about the flexible payment terms that enable Startup collaborations and ask all your questions.
About this event
Imagine, you could work with all Clients, even the cool Startups that don't have enough money. KAPSLY enables Startups and Service Providers to collaborate on flexible payment terms - fast, transparent and at low costs.
Service Provider can benefit from the success of their clients with a financial upside and work on cool projects.
In this Webinar, you will see you can easily create such contracts and manage all your projects in one place, without any legal hassle.
Experts:
Dr. Maximilian Diem, Founding Partner IXAR Legal AG
Vincent Irrling, Founder KAPSLY GmbH
Join and bring your questions. If you want to make sure that we answer your questions, please submit them here.