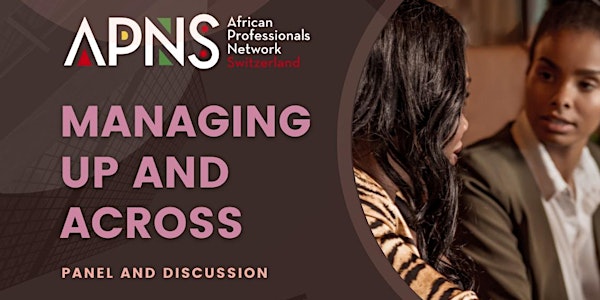 APNS Monthly Meeting - Managing up and across Panel and Discussion
Location
Warwick Geneva
14 Rue de Lausanne
1201 Genève
Switzerland
Managing up and Across - Panel and Discussion
About this event
Hi,
Please join our monthly networking event. The topic is Managing up an Across
We will receive high-level experienced Africans from the private sector, international organizations and the UN who will share their insights and experiences on how to create value in your organization and navigate your relationships with leaders and peers.
Hotel Warwick, rue de Lausanne 14, 1201 Geneva
Time: June 30th 2022 06:30 PM
Speakers :
Muhammad Kah, Vice President of the UN Human Rights Council and The Gambia Ambassador to Switzerland
Achille Yomi, Managing Partner of Talmis and former Executive Director at Standard Chartered Bank
Angela Adjei Yankson , General Counsel, Philia SA
Edward Kwakwa, Deputy Director General at the World Intellectual Property Organisation (WIPO)
Alex Manu, Finance Director, Agha Khan Health Services
Free entrance for APNS members (having paid the annual fees)
20 CHF for non-members
Register here and you'll receive a link
We look forward to seeing you.
APNS