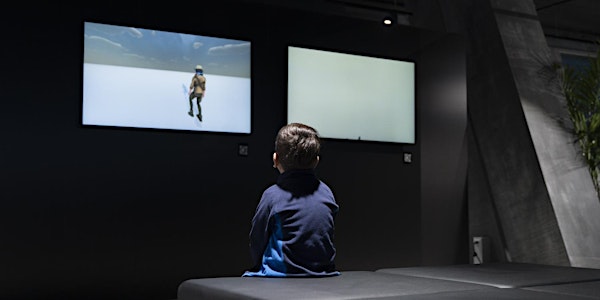 Art & Cake: Geführte Tour durch NFT Kunstausstellung | 9. Oktober 2022
Nehmen Sie an einer Führung durch die aktuelle Kunst und NFT-Ausstellung teil und erfahren Sie bei Kaffe und Kuchen mehr über NFT
When and where
Location
Zurich Airport The Circle 18 8058 Kloten Switzerland
About this event
Möchten Sie mehr über digitale Kunst, Metaverse und NFT erfahren?
Besuchen Sie am Sonntag, 9. Oktober, unsere Ausstellung mit einer 20-minütigen geführten Tour durch die NFT-Ausstellung "Edges of the Metaverse" des renommierten National Geographic-Fotografen Aaron Huey.
Die Ausstellung zeigt Fotografien und Videos von den äußersten Rändern verschiedener virtueller Welten: Decentraland, Minecraft, Somnium Space, Roblox, VRchat, SecondLife.
Alle ausgestellten Arbeiten wurden während Aaron Hueys Einsatz im Metaversum vom National Geographic Magazin dokumentiert und als NFTs für exklusiv in der elementum.art NFT Gallery präsentiert. Diese können ebenfalls online erworben werden.
Die Galerie präsentiert ebenfalls die gefeierte Serie "Voice Gems" von Reeps100 (Harry Yeff) und Trung Bao und stellt zum ersten Mal in der Schweiz eine sorgfältige Auswahl von 10 Punycodes aus, die als erste Kunst-NFTs auf der Blockchain gelten. Es handelt sich dabei quasi um die "Höhlenmalerei" der Kryptokunst.
Die elementum.art NFT Gallery arbeitet mit der Kate Vass Galerie zusammen, welche Werke der Neural Zoo Serie von Sofia Crespo sowie Arbeiten von Entangled Others Studio zeigt.
Nehmen Sie an einer der folgenden Touren teil:
Tour 1: 13:00-13:20, mit Kate Vass (Kate Vass Galerie) auf Englisch
Tour 2: 13:40-14.00, mit Kate Vass (Kate Vass Galerie) auf Englisch
Tour 3: 14:20-14.40, mit Kate Vass (Kate Vass Galerie) auf Englisch
Tour 4: 15:00-15.20, auf Deutsch
Tour 5: 15:40-16.00, auf Deutsch
Tour 6: 16:20-16:40, auf Deutsch
Alle Teilnehmer erhalten im Anschluss an die Führung einen Kuchen und ein Kaffe.
Bitte beachten Sie, dass die Teilnehmerzahl begrenzt ist, und wir empfehlen Ihnen, sich im Voraus anzumelden.
Über die elementum.art NFT Gallery
Die elementum.art NFT Galerie ist ein Ort, an dem sich Menschen treffen und Zeit verbringen wollen, um in digitale Kunsterlebnisse einzutauchen. Alle sind herzlich willkomen digitale Kunst in der wohl grössten NFT Galerie der Schweiz zu entdecken und zu erleben.
Die 380 Quadratmeter große Pop-Up-Galerie befindet sich am Zürich Flughafen, The Circle 18, nur zwei Gehminuten vom Flughafen Terminal entfernt.
Mehr Informationen finden Sie hier
_______
elementum.art | collect the true pioneers | since May 2019
elementum.art ist eine plattform für historisch wichtige Kunst NFTs, und wurde von den Schweizer NFT Pionieeren dloop gegründet.
Lernen sie mehr über uns auf www.elementum.art
_______
Partner der elementum.art NFT Gallery sind:
Flughafen Zürich AG | aroma | Kate Vass Galerie | SNOWCASH | Screenpro