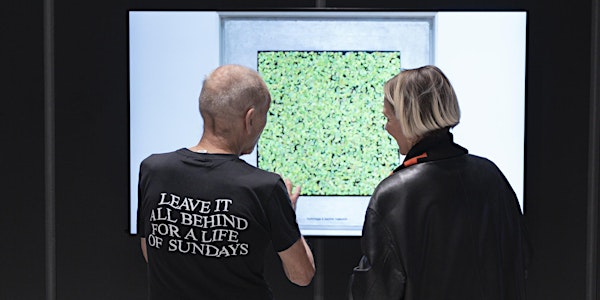 Art & Cake: Guided tour "Liebe Maschine, male mir" | 18 December 2022
Art & Cake: Guided tour of the NFT group exhibition "Liebe Maschine, male mir" with works by pioneer computer artists.
When and where
Location
Zurich Airport The Circle 18 8058 Kloten Switzerland
About this event
Do you want to learn more about digital art and NFTs? Join our 30-minute guided tour of the group NFT exhibition "Liebe Maschine, male mir" on Sunday, December 18.
"Liebe Maschine, male mir" features new artworks by Frieder Nake, Hein Gravenhorst, Manfred P. Kage, Herbert W. Franke, Alexander Mordvintsev, Ganbrood, and Espen Kluge, that trace a broad spectrum of algorithmic art. The exhibition is co-curated by Georg Bak and Kate Vass.
Please register for the following slots of the guided tours:
*All participants will receive a complimentary cake and coffee after the tour. Please note that the number of participants is limited and we recommend that you register in advance.
_______
elementum.art NFT Gallery | Zurich Airport, the Circle 18
The elementum.art NFT Gallery is a place where people want to go, meet up and spend time to immerse themselves into digital art experiences. Whether it is a place for the NFT and art community to connect, or for art lovers and visitors of the Circle at Zurich Airport to explore the elements of NFTs and digital art.
Spanning over 380 square meters, the elementum.art NFT gallery is situated at the Circle 18; a two-minute walk from Switzerland's largest international airport renowned for its quality of stay and for high-end shopping and dining experiences. Our immersive space will not just reflect the zeitgeist, but will also foster an understanding of our historical past with historical NFTs and from the perspective of present circumstances, with a view to the future. We have planned a diverse programme; through networking events, talks, and exhibitions, evolving around the topic of digital art and showcasing a range between historical NFTs and releases - as well as live mints.
Partners of the elementum.art NFT Gallery:
Flughafen Zürich AG | aroma | Kate Vass Galerie | SNOWCASH | Screenpro
_______
elementum | collect the true pioneers
elementum only offers you important and historical NFTs. Established in May 2019, elementum is one of the first NFT art platforms worldwide that offers you important and historical NFTs. Unlike most NFT marketplaces, elementum makes it easy to buy and collect NFTs and also accepts credit cards, without having to own crypto or use a crypto wallet. 

Over the past years, elementum established curated programming with a particular focus on showcasing historically relevant NFTs created by the great visionaries of the modern and contemporary era. 
elementum works closely with digital art specialists, curators, historians, institutions, and writers to identify and canonize the important role the artworks we offer play in history. So, hard to find NFTs that are easy to buy.
Learn more about us at www.elementum.art.
For all the latest news and announcements, follow elementum on Twitter @elementumart and join our telegram group elementum.art.