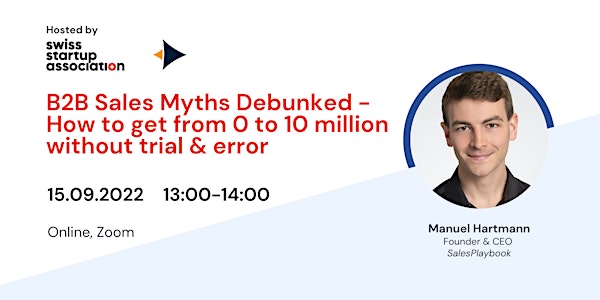 B2B Sales Myths Debunked - How to get from 0 to 10 million without trial &
Veranstaltungsort
Online-Event
B2B Sales Myths Debunked - How to get from 0 to 10 million without trial & error
Zu diesem Event
Join us and Manuel Hartmann, Founder of SalesPlaybook, for this session on B2B Sales for Startups: B2B Sales Myths Debunked - How to get from 0 to 10 million annual revenue without trial & error.
Manuel founded SalesPlaybook early 2019 after being frustrated about the lack of flexible, affordable, no-bullshit Sales Acceleration Enablement on the market while he built up sales for a Zurich-based startup himself. Over the last 34 months, SalesPlaybook worked with 200+ B2B entrepreneurs to help them hit product-market-fit and accelerate their market traction without hiring expensive salespeople (too) early on.
You can expect open discussion with founder startup use cases, and entrepreneurs learn about how to: 1. Accelerate your market traction by leveraging innovative sales tools & methods 2. Validate initiatives faster by getting data on what works (and what doesn't) and 3. Avoid trial & error by following proven methods and templates.
Follow us on LinkedIn to stay up to date with our upcoming events!