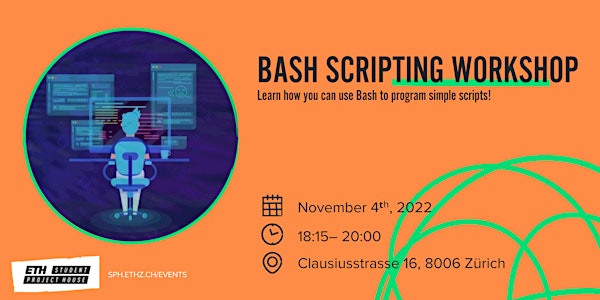 Bash Scripting Workshop
Learn how you can use Bash to program simple scripts! #event #digital
Zeit und Ort
Veranstaltungsort
SPH - FHK Clausiusstrasse 16 8006 Zürich Switzerland
Karte und Wegbeschreibung
Zu diesem Event
Learn how you can use Bash to program simple scripts that can save you a lot of work. Bash is a scripting language that is designed to interact with other programs and your system easily. Whether you want to backup your newest files to a hard drive or quickly download a lot of PDFs—with Bash, you can do it at a keystroke.
The Alternative and the Student Project House Collaboration.
This event is brought to you through a collaboration between The Alternative and the Student Project House!
The Student Project House
ETH Student Project House (SPH) was built with a singular vision – to be a dynamic melting pot that empowers the next generation of makers and innovators. We provide students with a pressure-free environment that triggers inspiration, discussion, and hands-on (and often messy) exploration, so that they can foster a mindset geared to create, innovate and lead impactful change.
The Alternative
The Alternative is a student organization at ETH who help you with Linux at their events and in their office. For free! Because they love Open Source and Free Software and want to help you to get started. Each semester, they organize events to help you use and produce Free and Open Science, Hardware, Software and File Formats.