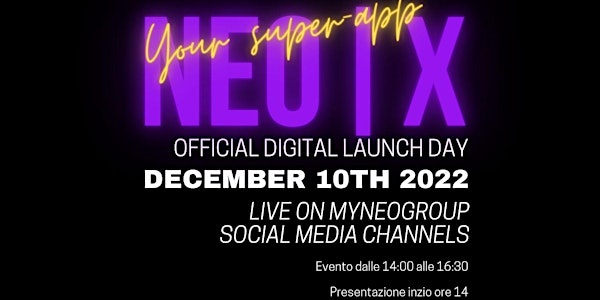 Official European Launch of the NEO X Super App
Evento dedicato al lancio in anteprima mondiale della prima vera super-APP per il mercato occidentale. Un'assoluta novità!
Informazioni sull'evento
MyNeoGroup è una multinazionale specializzata in servizi fintech e digitali in generale, con anni di esperienza in questa industria che si è sempre più sviluppata attorno alla tecnologia blockchain.
Memore di un knowhow acquisito nel servire centinaia di clienti business soprattutto in Europa, ma anche in Medio Oriente, Usa e Sud America, il 2022 segna l'ingresso della nostra azienda nel mercato retail con un prodotto UNICO e mancante nel panorama Europeo, Americano e Sud Americano: una SUPER-APP e l'abbiamo chiamata NEO|X.
Il 10 Dicembre dedicheremo la giornata al lancio ufficiale in anteprima mondiale di NEO|X, la prima super-app pensata per il mercato occidentale, dopo esempi di successo nei mercati asiatici che nei casi di maggior successo hanno visto miliardi di utenti in utilizzo attivo.
NEO|X è una rivoluzione in termini nell'uso dello smartphone e grazie alle sue innovazioni, alle licenze bancaria e crypto, grazie alla possibilità di raggruppare centinaia di appplicazoni di uso comune che già oggi usi sempre, oltre alle nostre dedicate, offre certamente un panorama nuovo nell'interpretazione dell'uso del tuo smartphone, dello storage dei dati e nella partecipazione inculsiva in un ecosistema digitale, in grado di diventare un generatore di cashflow continuo per chi ne diventa socio.
Il 10 Dicembre non mancare, sarà una giornata piena di contenuti, certamente carica di emozione e di prospettive, sopratutto sarà una giornata dedicata a te, che in qualche modo stai cercando una soluzione imprenditoriale per il tuo futuro business, con un prodotto che cambierà le abitudini delle persone, portando anche in Europa ma non solo, il magnifico mondo delle super-app, ormai diventato l'unico modo di gestire il telefono per miliardi di asiatici.
NEO|X è la prima, vieni con noi anche tu!