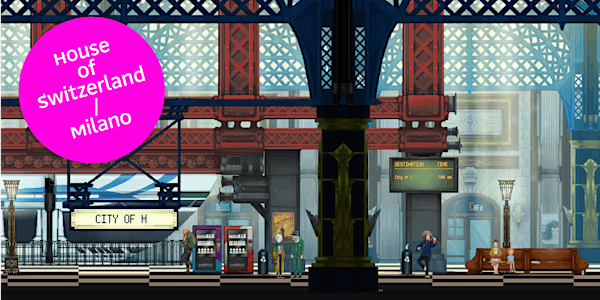 Playing together – International Game Development Panel
The international meeting and networking event of the Italian and Swiss game dev industry in the «House of Switzerland» in Milano.
Quando e dove
Località
Casa degli artisti 89/A Corso Garibaldi 20121 Milano Italy
Informazioni sull'evento
Questo incontro internazionale tra sviluppatori di videogiochi, editori e funzionari pubblici si concentra sulla condivisione di esperienze e sulla presentazione dei best practice sullo sviluppo e la pubblicazione di giochi in Europa.
Lo sviluppo dei videogiochi è un'industria con un grande potenziale. Su scala globale i ricavi hanno già superato l'industria cinematografica e musicale. Cosa serve per arrivarci in Italia e in Svizzera?
-
This international meeting of game developers, publishers and civil servants puts the focus on sharing experiences and presenting best practices about the development and publishing of games in Europe.
Game development is an industry with great potential. On a global scale the revenues have already outpaced the film industry. What does it take to get there in Italy and Switzerland?
+++
Programma
Presentazione gli use case: "Monorail Stories – dalla prima idea a un gioco pubblicato"
Panel: Sulla base degli use case presentati, discussione da parte dei panelist italiani e svizzeri sulle best practices nello sviluppo e pubblicazione di giochi. Cosa deve essere cambiato per migliorare la situazione? Sessione Q&A con i presenti
Verrà servito un Brown Bag Lunch.
-
Programme of our Brown Bag Lunch
After the welcome of the guests in the House of Switzerland, we start with the presentation of a use case: "Monorail – from the first idea to a published game" by our keynote speaker Stefano Maccarinelli.
It follows a panel discussion withe the presented use case as a starting point. Italian and Swiss panelists discuss best practices in the development and publishing of games.
The public is invited to participate actively to the discussion.
A Brown Bag Lunch will be served.
+++
L'evento è organizzato dalla Swiss Game Developers Association. Il suo obiettivo è favorire la sostenibilità economica, ambientale e sociale del game development, rappresentare i suoi membri e promuovere i giovani talenti.
-
The event is organised by the Swiss Game Developers Association. Its goal is to foster economic, environmental and social sustainability of game development, to represent its members and to promote young talents.