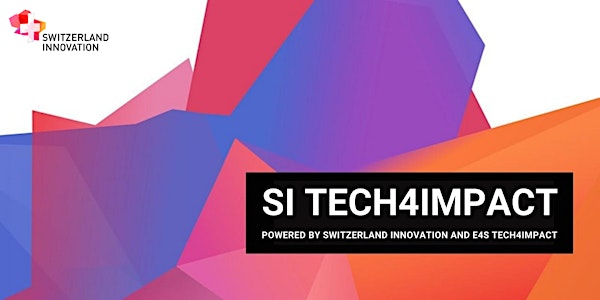 Switzerland Innovation Tech4Impact Demo Day 2023
Join us for the 3rd Switzerland Innovation Tech4Impact Demo Day
Où et quand
Lieu
Swiss RE Next Auditorium, Zurich Mythenquai 50/60 8002 Zürich Switzerland
À propos de cet évènement
1 heures 30 minutes

Billets électroniques sur mobile
Thanks to its unique expertise and technological competences, Switzerland has an opportunity to foster innovative entrepreneurial solutions with a sustainable impact in a comprehensive sense, i. e., in economic, environment, and societal terms.
The Switzerland Innovation Tech4Impact initiative supports projects that address society's most pressing issues, with a focus on the United Nations' 2030 Agenda for Sustainable Development. In its third year, six teams working on various sustainable development goals were awarded a one-year grant of CHF 85,000 each to further develop their ideas at one of the six Switzerland Innovation Parks. (Find out more: https://sitech4impact.ch/)
At the Demo Day, the six awarded teams will take the stage to give you a first-hand and exclusive presentation on their projects and the progress achieved.
You are kindly invited to join us for this event.
Program overview:
15:00 - Startup exhibition
16:00 - Opening remarks by Raymond Cron, Director of Switzerland Innovation
16:10 - Keynote by Dominique Megret, Head of Swisscom Ventures, author of Deep Tech Nation
16:20 - Presentations by three nominated startups
16:35 - Panel discussion with Rudolf Minsch, Head Economist at Economiesuisse, Ramzi Bouzerda, CEO of Droople (scale-up), and Martin Weymann, Head of Sustainability at Swiss Re
17:00 - Presentations by three nominated startups
17:15 - Closing remarks by Switzerland Innovation CEO, Sophie Cerny
17:20 - Aperitif & Startup Exhibition
18:30 - End of the event
Language: English
The initiative is led by Switzerland Innovation in collaboration with the Enterprise for Society Center. The following companies support the initiative as innovation partners: ABB, Credit Suisse, Die Mobiliar, Economiesuisse, Interpharma, Schindler, Swiss Re Foundation, Swisscom, UBS, Zurich.
Switzerland Innovation is a network of innovation parks across Switzerland based on a joint initiative of public institutions, academia, and the private sector with a statutory mandate from the Swiss government. Switzerland Innovation forms an ecosystem that allows universities and innovative companies to collaborate and use their knowledge and research results for the development of new marketable products and services. www.switzerland-innovation.com
The Enterprise for Society Center (E4S) is a joint venture of the University of Lausanne through HEC Lausanne, IMD and EPFL, under the stewardship of its College of Management of Technology, with the mission of spearheading the transition towards a resilient, sustainable and inclusive economy.
Find out more: https://sitech4impact.ch/