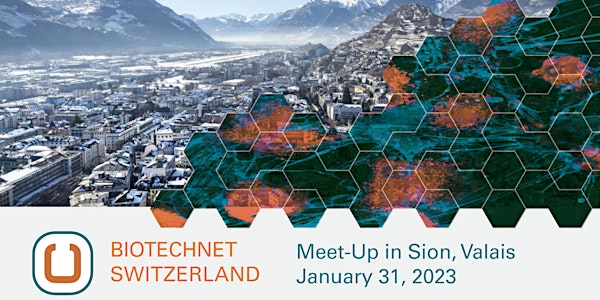 Biotechnet Meet-Up 2023
Networking event for Biotechnet members, researchers, and industry. Discover our experts and technologies, and develop new projects.
When and where
Location
Rue de l'Industrie 23 23 Rue de l'Industrie 1950 Sion Switzerland
About this event
Join us on January 31, 2023 to connect with Swiss universities and research organizations active in biotech!
In the spotlight this year is our new Data Science platform, along with keynote speakers focusing on how digital technologies are transforming biotechnology. A panel of SMEs will discuss public-private biotech R&D. You will also have the opportunity to tour HES-SO Life Technology labs inside Energypolis.
Our technology platforms will present their latest research and events - this is a great opportunity to discuss new project ideas with key actors at Swiss universities and research organizations.
Draft Agenda
10.00-10.15 Welcome: Laura Suter-Dick, FHNW and President, Biotechnet
10.15-11.00 Technology platform showcase
Tissue Engineering: Markus Rimann, ZHAW
In Vitro Diagnostics: Samantha Paoletti, CSEM and Marc Pfeifer, HES-SO
New: Biomanufacturing (formerly Single-Use Technology): Cedric Schrimer, ZHAW
11.00-11.15 Biobreak
11.15–12.30 Technology platform showcase
New: Data Science: Christian Kronseder and Abdullah Kahraman, FHNW and Moritz Kirschmann, CSEM
Biocatalysis: Katrin Hecht, ZHAW
Bioresource Technologies: Philippe Corvini, FHNW
Stem cells and regenerative medicine: Eliane Muller and Amiq Gazdhar, University of Bern / Insel Spital
Antibiotics: Markus Seeger, University of Zurich
12.30-13.45 Lunch and networking
13.45-14.15 Keynote talk, sponsored by SATW
Interpretable artificial intelligence for cancer personalized medicine: Aurelien Pelissier, IBM Research Zürich
14.15-14.45 Keynote talk, sponsored by SATW
Digitalization of processes and digital twins to improve biomanufacturing: Moritz von Stosch, DataHow
14.45-15.30 Panel discussion: Public-private R&D
Massimo Nobile, CEO, Swiss Biotech Center
Claudia Scheckel, CEO, Oncobit
Jens Kelm, Founder and CEO, PreComb
15.30-17.00 Tour, break-out discussions and networking
Tour of Energypolis - HES-SO Valais-Wallis Life Technologies labs
Projects/collaboration ideation between members, researchers, and industry
Project funding Innosuisse, SNSF
Political and government support for biotech innovation
Advisory board discussions
Other topics based on interest
Event Partners: