Prioritizing Brain Health in Switzerland
About this event
BrainFit4Life is a Swiss Initiative focusing on the topic of brain health and aging. Our mission is to promote dementia awareness and to help funding innovative research in early diagnosis and prevention of neurodegenerative disorders impacting cognition. The aim is to support an integrative clinical research strategy with direct impact on individuals suffering from dementia.
Following this mission, we announce the second panel discussion on the topic of national data registry and brain banking. The existing expertise in basic and clinical neurosciences, along with the unique public-health system and IT infrastructure in Switzerland provides a solid backbone for the creation of a federated framework allowing for reusing diagnostic data for research under full privacy protection. The discussion will focus on existing and future solutions for a nation-wide brain health registry. We will also address the potential of such framework as a supporting tool for accurate diagnosis and an exemplary data-driven personalized medicine engine at the service of patients
The e-workshop is constructed in the format of a lively discussion among clinicians, scientists, foundations, and industry. The aim is to provide insights on the clinical usefulness, the regional challenges, and the global impact of a brain health registry in Switzerland. The e-workshop will be accessible for free after registration and the recording will be available to the public through our Youtube channel.
Artwork from Dr. Rahika Patnala, Founder of Sci-Illustrate and Ambassador of BrainFit4Life.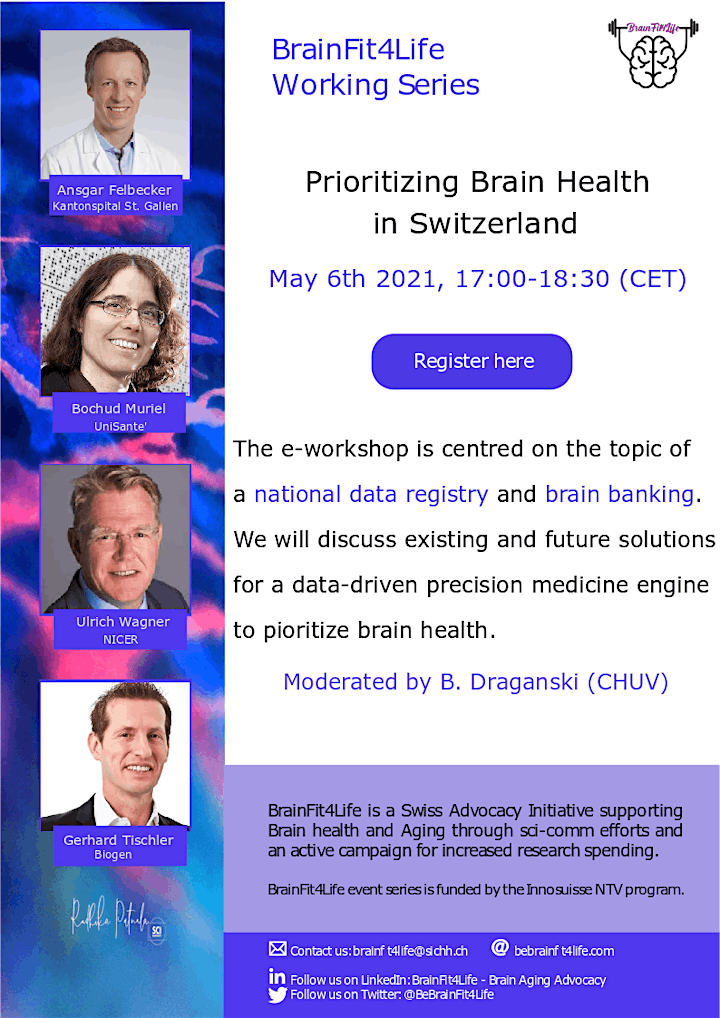 Organizer of BrainFit4Life Workshop Series- Prioritizing Brain Health in Switzerland