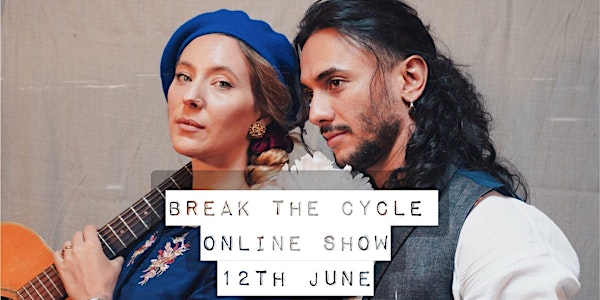 BREAK THE CYCLE ONLINE SHOW
Under the stage lights of a theatre space we relish in performing live again, celebrating five years of our duo's musical activity.
About this event
During Break the Cycle Online Show we perform our songs plus a few covers that went viral taking them to perform for audiences in Middle-East and South Asia.
We will premier our new song Break the Cycle which brings into question the cycle of conditionings which we are all trying to break free from. This song will be released as a single in October/November this year.
After the show we both will be present for a live Catch-Up with you and the audience.
This show will not be featured on any Seven Eyes social media pages, it is an exclusive online show only available to those who have purchased a ticket. Grab your ticket now and watch the show live on the 12th - 8pm (Paris)/ 11:30pm (Delhi)/ 11am (Los Angeles). Alternatively you can watch the concert in your own time as the show link will be available to you.
TICKETS: Purchase by voluntary donation. Your donations help keep the artists' musical productivity flowing as they generate new creations.
1 ticket is valid for the whole family to watch together at home.
PLEASE CLICK HERE IF YOU WOULD LIKE TO DONATE WITH CREDIT CARD
EXCLUSIVE PERFORMANCE
SATURDAY 12/06 20H CET
Expect an evening that celebrates Seven Eyes' five active years performing music that brings together diverse influences.
Seven Eyes was formed in 2015 by Tanya Wells, a British/Swiss singer who spent her childhood years living in India learning Hindustani music and Paulo Ví, a western classically trained guitarist from Brazil. Their music incorporates elements of jazz, classical music, folk and soul, embracing diverse cultures, rhythms and languages.
As well as performing for prestigious festivals in the Asian Subcontinent, Seven Eyes have performed at the United Nations in New York, UN Geneva, EFG Jazz Festival London playing alongside Natacha Atlas, TEDx Malaysia and numerous private events. Regulars on radio stations such as the BBC Asian Network, BBC Urdu, and BBC World and are regarded for their appeal to bring together diverse music and various languages from around the world in a single performance.
Some links to get familiar with Seven Eyes' music: https://open.spotify.com/artist/0M6umUTp0QgXZP8ECTwybz?si=gUKkQbjVQtmW0aWrUb38qA&nd=1