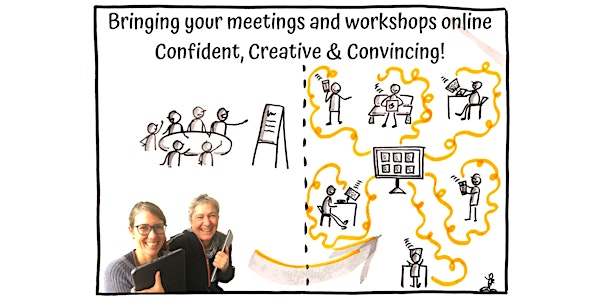 Bringing your Meetings & Workshops Online: Confident, Creative & Convincing
A series of live online workshops on how to unleash the power of engagement and collaboration in the virtual world
About this event
Are you fully playing to your potential as facilitator in the online world yet?
Do you also ask yourself, how you can make the transition to make online meetings and workshops great experiences?
What from the offline world can you bring online?
Are you ready to look beyond the horizon, turn common approaches, forms and formats upside down and transform your online interactions with seriously playful curiosity?
Might there even be more possible than you believe today?
Let us tell you three stories. Does any of these challenges resonate with you?
Maya is wondering what is possible in a webinar
Maya has participated yet at another uninspiring webinar with talking heads and a passive audience drifting off into multitasking. Microphone muted, camera off, consuming rather than contributing and not being fully present. She wonders: is that all that is possible online? She worries that these experiences shape the habits of how people meet online in the organisation she works for.
As a facilitator this hurts. Maya knows how to design a dynamic and engaging workshop in the face-to-face world. This is her practice and expertise. But how can she do it in an online environment, how can she create new ways of connecting online so that different habits are formed? Maya would love to successfully master the transition into the online world. She is wondering where to start and feels overwhelmed. Wanting to be present at a distance seems a bit of an antidote to her.
Tom would love to bring his clients online
Tom's client wants to meet him in person, having a meeting online is not their practice. They don't belief that virtual collaboration is as effective as meetings in person. Talking over a camera feels somehow uneasy. Therefore he spends a lot of time travelling the country to see his clients.
Tom is challenging this practice. He doubts that in online meetings the quality of interaction and collaboration decreases. He asks himself how he can convince his clients to do the bold step of moving some of the meetings online? A first positive experience would help. He is keen to make this step himself, and to explore new possibilities of collaboration. He is looking forward to spending less time in the train or on the road!
Julia wants both: less travelling and high quality collaboration
Julia is working in an international development organisation. She supports the new climate strategy and travel policy of her organisation to reduce duty trips and to shift collaboration n with partners online. But how do you do this? How can she keep the quality in the programmes and in the collaboration high ? Some examples of how to bring workshops online in an inspiring and productive way would be helpful.
Our response to Maya, Tom, Julia and to you is: Yes you can!
Join us in this series of live online trainings and discover how to successfully create online meetings and workshops that really unleash people's intelligence, imagination and creativity!
We would love to support you in becoming comfortable, confident and convincing as a facilitator in an online environment. We are keen to accompany you in designing and leading workshops online so that you make the most use of what is possible online and that you do not forget what you know about facilitation once you are in an online setting!
Join our discovery journey and register now!
Who will accompany you on this learning journey
We are two experienced, motivated and adventurous facilitators that have been on a mission for many years to bring meetings alive where everyone leaves energized and inspired. We love people and the potential every single person brings to a group. We strongly believe in the power of collaboration that builds on the diversity of people, ideas, and opinions. Our facilitation practice tells us that real participation and deep conversation are possible in both worlds, face-to-face workshops and live online workshops.
We live in two different parts of Europe, in Switzerland and the Netherlands and enjoy collaborating online. In remote collaboration we develop joint offers and projects and we also enjoy having a virtual coffee breaks together once in a while.
Fascinated by the possibilities of connecting online we have transitioned our facilitation practice into the world of online collaboration. The technology allows us to work the networked way and to connect people from different parts of the world that would not collaborate otherwise. We also appreciate the fact that we can contribute to reduce the carbon footprint of those we are working with and for ourselves. We are keen to share our practice and discoveries with you and to further explore the possibilities further with you.
What you will gain from participating in this learning process:
Gain clarity and become aware on what you can build from your in person facilitation skills and practice when planning and leading live online workshops and meetings.
Open yourself up to the possibilities to creatively design and facilitate dynamic, engaging and inspiring live online meetings and workshops. Become clearer about what is possible, have the skills and positive examples to go on, use and further explore the potential.
Feel ready, keen, confident and courageous to facilitate live online meetings and workshops.
The training will be
Interactive and engaging: Each and everyone is active and included. We will be a small group of max. 16 participants.
Completely practical: Your current and future practice is our point of orientation.
Deeply mind-shifting: We have a look under the iceberg on which grounds and beliefs our current approach to online engagement is shaped.
Seriously playful: We stretch our comfort zone by testing creative approaches to engage and unleash everyone.
What we will do together
Reflect with peers your own online experience as well as your mindset and attitude as a participant and facilitator.
Jointly explore what is possible online and how we can make online collaboration lively, engaging and productive.
Deepen your understanding through interactive and co-created inputs.
Practice the essential online communication skills necessary to support, encourage and motivate dynamic and creative online participation.
Combine different online tools and communication channels.
Try various interactive activities and debrief, particularly explore the potential of using Liberating Structures online.
Interact among participants in between the sessions for joint preparatory work.
What is included
3 facilitated live online workshops of 90 minutes each
Material to get ready for each virtual session (some short reading and/or reflection)
Documentation of each of the 3 workshops
Exchange with peers facinging similar challenges as you
List of resources
As a bonus we offer you 2 group coaching calls in which you will get answers to your specific questions and you will learn for your own challenges as well as from the ones of the other participants.
Dates and Training Outline
The online workshops and group coaching calls will take place on Zoom.
Workshop #1: Tue 10 March 2020 1.30 - 3pm CET
Getting in and connecting to each other; transitioning our good f acilitation practice to the online world
Workshop #2: Tue 17 March 2020 1.30 - 3pm CET
Exploring what is possible online; unlocking the potential for you and your work
Group Coaching Call #1: Tue 24 March 2020 1.30 - 3pm CET
Exploring your questions and challenges and experiencing a variety of methods for online interaction
We take a break and give you some time to practice and experiment in your working context.
Group Coaching Call #2: Mon 20 April 2020 1.30 - 3pm CET
Workshop #3: Mon 27 April 2020 1.30 - 3pm CET
Wrapping up and bringing your learning home
We strongly recommend that you attend all three workshops live and benefit from the two group coaching calls. The sessions will be recorded, but it will never replace the live online experience.
Before the first worskhop and in between the sessions you will be given preapartory reading and tasks for preparation and reflection.
Sign up now! We are looking forward to accompany you on your way to bringing your workshops and meetings online.
Refund Policy
If you cancel before 29 February 2020, we will refund your ticket less an admin fee of 50 CHF. After 29 February 2020 we will not make refunds, but you are welcome to transfer your place to someone else.