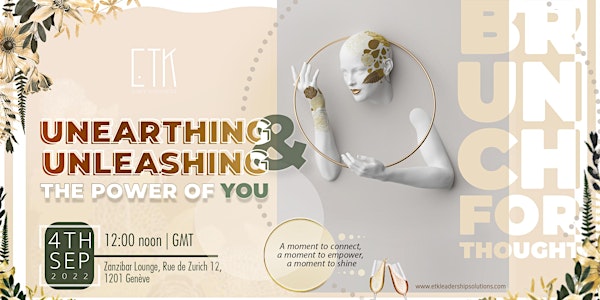 Brunch for Thought: Unearthing and Unleashing the Power of You
We are officially sold out, thanks to all of you! To join our waiting list, kindly email us at info@etkleadershipsolutions.com
When and where
Location
Zanzibar Lounge Bar & African Cuisine 12 Rue de Zurich 1201 Genève Switzerland
About this event
Geneva! Geneva! Geneva!
Over a delicious brunch, YOU are going to dig deep to discover YOUR individual & unique power & how to effectively unleash YOU to the world!
For the first time ever, ETK Leadership Solutions is bringing to the city of Geneva a uniquely curated experience, Brunch for Thought: Unearthing and Unleashing the Power of You!
In this highly interactive leadership experience, you will learn how to dig deep to discover your unique power. For this first-of-its-kind brunch, hosted in an intimate, elegant setting, we have created a place for possibility and community. Thoughtful conversations and reflective leadership exercises will foster self-discovery and meaningful connections, leaving you ready to build your dreams and unleash the best version of the woman within you to the world!
What you can expect at this "Brunch for Thought":
Afro-fusion buffet brunch
Coupe de champagne
An empowerment moment led by business professor, leadership and communication strategist, and coach, Dr. Eleanor T. Khonje, PhD
Reflective, fun, and interactive exercises
A unique networking experience that will include a communication session on "networking effectively"
Raffle Prizes (Prize items include a dinner for two; 2 one-on-one coaching sessions with Dr. Eleanor T. Khonje, PhD; various beauty treatment sessions. NB: Raffle tickets sold separately at the event)
Theme and Dress Code: Elegant and Regal Womanhood
Tickets: Limited early bird tickets on sale until Monday, August 1; Regular tickets go on sale Thursday, August 4
Other payment methods: TWINT: +41789732737 IBAN: Eleanor Khonje Consulting- CH25 0078 8000 0506 9499 9 (Kindly send your name and confirmation of payment to info@etkleadershipsolutions.com)
About Brunch for Thought
Brought to you by ETK Leadership Solutions, "Brunch for Thought" is a social gathering of women which, over brunch, provides a space for thoughtful, candid, inspiring and empowering conversations that reflect the everyday lives of women. Topics discussed over delightful brunches include personal growth and development, self-love, self-care, healing, purpose, leadership, professional advancement, identity, parenthood, mental health, relationships and so much more. Our goal with the "Brunch for Thought" experiences is to curate safe, nurturing and engaging spaces for women where they can share, learn, connect, develop and soar in various areas of their lives. Like every ETK experience, through Brunch for Thought, women are equipped with the tools to develop themselves into the women they were meant and dare to be, and through sharing, learn to deeply connect with themselves and with each other.