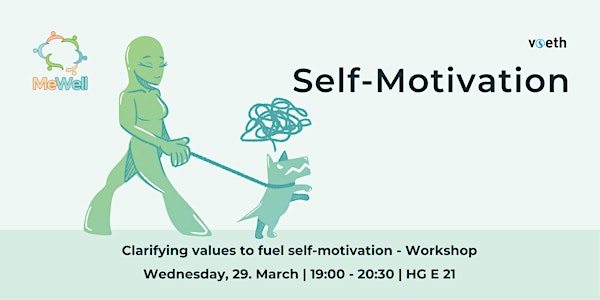 Clarifying values to fuel self-motivation
In this workshop, Mr. Wilhelm will show us how to motivate ourselves by identifying our values.
By MeWell. Mental Wellbeing Community
Date and time
Wednesday, March 29 · 7 - 8:30pm CEST
Location
ETH Zürich HG E 21, Rämistrasse 101 8092 Zürich Switzerland
About this event
1 hour 30 minutes

Mobile eTicket
Being motivated to make things happen does not occur naturally. It requires that we believe that we can do things, have a reason to do them, and are energized to do them. Most success stories begin with a clear and meaningful goal that the person is passionate about. To develop clear and meaningful goals requires knowing what matters. Knowing our values can help us understand what matters to ourselves and connect us to the world. Psychological science demonstrates the value of knowing and living one's values for motivation, wellbeing and mental health in diverse life-domains. In particular, students and early-career academics are often faced with problems of self-motivation and may benefit from setting clear goals that are connected to their core values. Therefore, in this event we will discuss how (work) values can improve motivation, including an exercise of values clarification.
**BACKGROUND**
Francisco Wilhelm is a doctoral researcher in the Department for Work and Organizational Psychology at the University of Bern, Switzerland. His fields of study are career development and work motivation. He also works as a consultant advising the Swiss government on career guidance programmes.
**CONTACT**
Telefon: +41 31 684 41 98
E-Mail: [francisco.wilhelm@unibe.ch](mailto:francisco.wilhelm@unibe.ch)
Postadresse:
Universität Bern
Institut für Psychologie
Fabrikstrasse 8
3012 Bern