Multiple Dates
CO CREATE A BETTER WORLD LIFE CHANGING WORKSHOP
How CO-CREATING A BETTER WORLD through FLOW STATE & AGILE THINKING can create a fantastic career path and future for all of us.
About this event
A FREE INTENSIVE SESSION ON LIFE, FINDING FLOW STATE, AGILE THINKING & THE FUTURE.
Spend one hour learning how you can make simple life, career and business changing choices that will have a major impact on your wellbeing, relationships and finances, whilst cultivating a powerful sense of meaning, purpose and destiny.
Whether you would like to be empowered or empower others at any level, this workshop is for you.
If you are:
A Searcher looking for life's answers .
A Professional looking for more meaning in their working life.
A Coach, Trainer or Consultant looking for more impact & clients
A Business Person or Entrapeneur looking to build and leave a lasting legacy.
Or ANYONE who wants more fun, and the feeling there is more to life than we know.
BOOK A SPOT TODAY FOR FREE - PUT IT IN YOUR DIARY & BE THERE READY TO WORK TOGETHER TO MAKE THE WORLD A BETTER PLACE FOR ALL.
WHO ARE WE?
We are an established global community working to make the world a better place by creating a series of free and investable life-changing professional trainings in consciousness and entrepreneurial development, working with individuals corporations and governments to solve global issues such as poverty, inequality, and injustice.
We are always looking to cultivate and invest in talent, to create the conscious visionary minds of the future.
SECURE YOUR SEAT & SAVE YOUR ZOOM LINK HERE!
EVERY TUESDAY at 6pm/18:00 Central European Time.
https://us02web.zoom.us/j/85882297828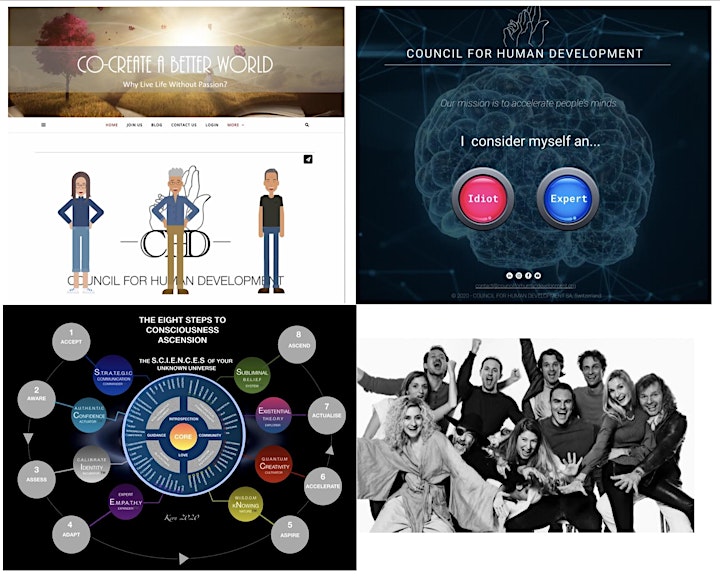 Organizer of CO CREATE A BETTER WORLD LIFE CHANGING WORKSHOP
The Council For Human Development is global movement of consciousness partners, co creating a better world. By accelerating minds into T3 thinking, we enable all people to solve global issues of inequality and prejudice, through their inherent creative potential, and limitless capacity for growth beyond the negatively competitive world we all suffer.