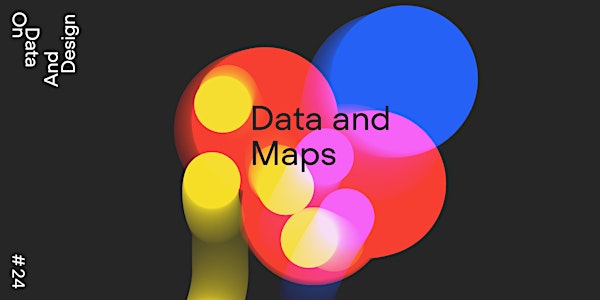 Data and Maps • On Data And Design #24 • on June 22 • online event
Whether tracking forest defoliation due to climate change or monitoring COVID, maps combined with data are becoming increasingly important.
Date and time
Thu, 22 Jun 2023 09:00 - 10:00 PDT
About this event
Join us for the 24th edition of On Data And Design, where we will delve into the world of "Data and Maps". This online event will take place on June 22, 2023, at 6:00 pm Mitteleuropäische Sommerzeit. Our expert panel will discuss the latest trends and techniques in data visualization and mapping. Discover how to effectively communicate complex data through beautiful and informative maps. This event is perfect for data analysts, designers, and anyone interested in the intersection of data and design. Don't miss out on this exciting opportunity to learn from the best in the field. Register now to secure your spot!
The next event will be in English only on YouTubeLive and streamed in selected studios. You will be able to ask questions via Slido.
IMPORTANT: Please RSVP for the event, so that we can send you the online link and additional information.
And here are the speakers:
John Nelson (https://www.youtube.com/@JohnNelsonMaps) A cartographer at Esri, known for his contributions to the field of map-making. Through his YouTube channel he shares detailed tutorials on map creation, sharing the cartographic process from start to finish. John will show us examples of maps as a visual platform for data and some of his projects showcasing the enormous potential of maps to uniquely reveal and communicate.
Nico Belmonte (http://philogb.github.io/projects.html) brings 15+ years of experience in Data Visualization and Mapping from working at companies like Twitter, Uber and Meta. At Twitter, Nico specialized in visualization of public-facing events as they were lived through the real-time conversational platform. As a Director of Engineering at Uber, Nico's team delivered industry-leading mapping software like avs.auto, kepler.gl and deck.gl for business, geospatial, and self-driving car visualization. At Meta, Nico leads the Maps Geo organization which focuses on maps for the Metaverse.
Craig Taylor (https://mapzilla.co.uk/) is a creative data artist with over 15 years of experience in the spatial industry. Currently leading the data visualization design team at Ito World, he specializes in transforming movement data into visually captivating representations. Using 3d design, maps and animation Craig discovers hidden patterns and trends in mobility data, bringing them to life in innovative and intriguing ways. From transit mountains to dynamic geysers visualising passenger counts, Craig's work showcases the diverse and creative ways of visualizing movement data. In his upcoming talk, Craig will share his expertise and passion for showcasing the endless possibilities of visualizing mobility data.
📽️ Streaming locations 📽️
You can join the streaming in Basel @superdot.studio in Südquaistrasse 14, 4057. There will be Beer and Pizza for free. 🤩🍕 Please sign up here, for us to know regarding Pizza order 👉 Register for Basel
If you want to open your space on the 22nd of June for other in town to join you. Please let us know and we will inform the community. Mail me 👉 darjan.hil@ondataanddesign.com
♥︎ A special thanks to our sponsor of the day ♥︎
🌎 CARTO - the cloud native spatial analytics platform. With CARTO you can create map-focused apps directly from BigQuery, Snowflake, Databricks or Amazon Redshift using deck.GL as the visualization library. Render large amounts of data and perform analytics without moving your data Start your 2 week free trial here! (https://app.carto.com/signup/) 🌎
Have a look at the recodings from our past events 👉 https://www.youtube.com/@OnDataAndDesign/videos
Darjan Hil from Superdot (https://www.superdot.studio/darjan-hil-en) will host the next On Data And Design (https://www.ondataanddesign.com) online session live on Youtube.
Further Links:
Youtube at ► https://www.youtube.com/@OnDataAndDesign/videos
Tweet at ► https://twitter.com/onDataAndDesign
Eventbrite Group ► https://ondataanddesign.eventbrite.ch
Meetup Group ► https://www.meetup.com/de-DE/ondataanddesign-Switzerland/
Linkedin ► https://www.linkedin.com/showcase/71529252
Superdot ► https://www.superdot.studio/
Instagram ► https://www.instagram.com/superdot_studio/
About the organiser
Each meetup will feature two guest speakers, presenting practical reports from their projects, other cool insights and inspiration. Of course, drinks and snacks will be provided by our partners.
You can find the videos of the past events at: https://www.youtube.com/channel/UCLs9T7SvGXsUh_sqYC1vKHw/videos