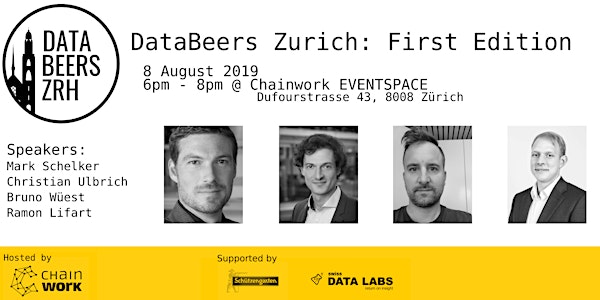 DataBeersZRH: First Edition
Interested in Data (Science), love Beers and in Zurich? Join us for after-work beers, interesting data talks, and networking; all for free!
When and where
Location
Chainwork AG 43 Dufourstrasse 8008 Zürich Switzerland
About this event
Hello Beer and Data Enthusiasts!
We are excited to announce the first Databeers event in Zurich (@Chainwork EVENTSPACE) to promote data culture amongst data enthusiasts of all kinds! This event follows other Databeers events across the world, and we hope to replicate their huge success here in Zurich!
The event is free (including the sponsored beers, first come first serve)!
For this first edition of DataBeersZRH we will have the following, very exciting line-up:
Mark Schelker (Chair of Public Economics, Department of Economics, University of Fribourg): "Data Archives – No, Physical Archives".
Christian Ulbrich (Assisstant Manager, PwC | Tax and Legal Technology. Disruption, Strategy & Application): "What Happens When the Taxman Gets Superpowers?"
Bruno Wüest (Data Scientist @ Sotomo): "Gender Bias and Stereotypes in Swiss Media"
Ramon Lifart (Leader Data Science @ gateB): TBD.
The DataBeers procedure:
Doors open at 18:00.
18:00-18:30 -> Meet & greet, socializing while enjoying a free beer.
Talks begin at 18:30: four to five short talks à 6-7 minutes.
After the talks (around 19:15): more socializing, meeting the speakers.
Doors close at 20:00. (Those still thirsty for beers and debates move on to the next Pub...)
In order to ensure beers for all of you, you need to register! The event is for free, but registering is mandatory!
Spread the word, datafy your friends and bring them with you. The more the merrier!
Beers are kindly sponsored by Schützengarten. Full information at our webpage.