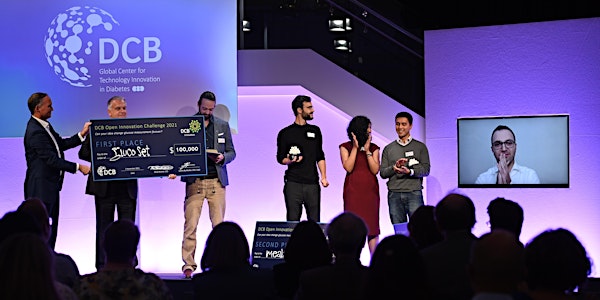 DCB Start-Up Night (In-Person)
Join us for the DCB Start-Up Night and the final of this year's DCB Open Innovation Challenge!
When and where
Location
Swiss Institute for Translational and Entrepreneurial Medicine 3 Freiburgstrasse 3010 Bern Switzerland
About this event
It is our pleasure to invite you to this DCB Start-Up Night so you can be among the first to find out which winning project ideas will receive up to 100,000 USD in funding and in-kind support to further develop and accelerate their idea.
In the last few years, diabetes technology has made enormous progress in improving the lives of people with diabetes. However, there is still a great unmet need for innovative technology solutions that help ease the burden of diabetes and improve the lives of people who have it. The DCB Open Innovation Challenge is an opportunity for anyone with an innovative solution to change diabetes management! The journey from submitting an idea to being one of the 6 finalists of this year's Challenge ends on November 30, 2022.
The event will include reception, a keynote session by Jack Trigger, the first person with type 1 diabetes to race solo across an ocean, final pitches of the top 6 teams and the award ceremony! After the official part is over, there will be networking and Apéro Riche to round off the evening.
Don't miss the chance to learn about the 6 finalists and their impact on diabetes management! Register now and reserve your spot at this year's DCB Start-Up Night!
Preliminary agenda:
16-17 Reception & Networking
17:00 Opening
17:10 Keynote by Jack Trigger
Jack Trigger is a 3 x world record holder, multiple race winner and the first type 1 diabetic to compete in a solo transatlantic race. He is currently working towards becoming the first person with type 1 diabetes to compete in the legendary Vendée Globe - a non-stop, unassisted, singlehanded round the world sailing race.
17:30 Diabetes Tech Start-Up Presentation & Pitches
• Diabetes Devices Vertical (3 teams)
• Digital Diabetes Vertical (3 teams)
18:45 Challenge 2022 review & outlook for 2023
19:00 Winner Announcement
19:30 Apéro Riche & Networking
Please note that this is the in-person event which till take place in Berne. If you would like to watch the livestream, you can register here.
In case you're curious about what the event has in store for you, watch this short teaser of last year's Final Pitches & Award Ceremony!