Dedhomiz (FR) and Hypsign (CH) perform live @ Dukes's Bar
About this event
Dedhomiz (France) rejoint Hypsign (Suisse) au Dukes's Bar de Lausanne pour un concert unique. Leur styles fleurte avec la pop, le Hi-Hop et le rock.
Une rencontre qui promet du gros son!
Les voilà de retour avec leur deuxième single "Never Ending" après « Maze Game » que l'on peut entendre dans les meilleures radios de Suisse Romande.Toujours sous les influences rock, pop et hip-hop, ce nouveau titre nous emmène dans cette belle et intrigante histoire où rien ne s'arrête, mais où tout commence.
Suivez-les sur les réseaux pour mieux connaître ces grands musiciens en devenir et comprendre leur amitié, travail, création et talent.
Après 10 ans de musique ensemble, Anthony et Lionel créent Hypsign. A 22 ans, ces jeunes musiciens de la région de Lausanne ont l'ambition de se produire au niveau des plus grands.
Ayant tous deux été bercés par la musique, leur passion commune a créé une évidence ; vivre de leur musique. A 11 ans, ils jouent dans leur premier groupe. Au fil des années, ils ont chacun développé des compétences dans leurs domaines respectifs. Anthony découvre son talent d'auteur-compositeur tandis que Lionel s'oriente vers un côté plus technique autant audio que vidéo. Forts de leur complémentarité, ils décident de créer Hypsign.
Issu de la musique rock, ils élargissent leur culture musicale en s'intéressant à tout style de musique. HYPSIGN s'inspire de Twenty One Pilots, Bring Me The Horizon ou Machine Gun Kelly.
Hypsign nous est proposé par le label Swiss Artists Productions.
***DEDHOMIZ (Lille, F)
Né fin 2018 , DEDHOMIZ est un duo originaire de Lille, fruit de la rencontre entre Youv et Enzo respectivement agé de 21 ans et 22 ans, au collège Youv Sadat écrit et Co-compose avec Enzo Gabert ( actuel batteur du groupe francais SKIP THE USE ) qui lui réalise et arrange également l'integrité des morceaux du jeune groupe .
Le Duo adopte vite un univers musicalement basé sur de la pop et aux influences electro, trap, rock et acoustiques.
Ils sortent leur premier titre sur youtube dès leur début puis disparaissent dans le but d'enregistrer plusieurs maquettes et, enfin, sortir leur premier clip " Let It Down" fin 2018.
A l'été 2020 sort le clip "Friendzone"tout premier single en français un premier pas vers leur langue natale.
Le Duke's a fait la découverte de Dedhomiz en septembre 2020, pour son plus grand bonheur, grâce à RedLine Radio. Nous sommes très heureux de les retrouver sur notre scène et espérons que vous serez nombreux pour profiter de leur présence à Lausanne.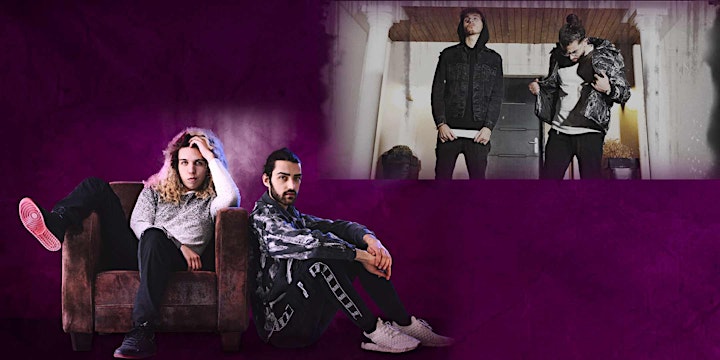 Organizer of DEDHOMIZ & HYPSIGN Live @Dukes Bar