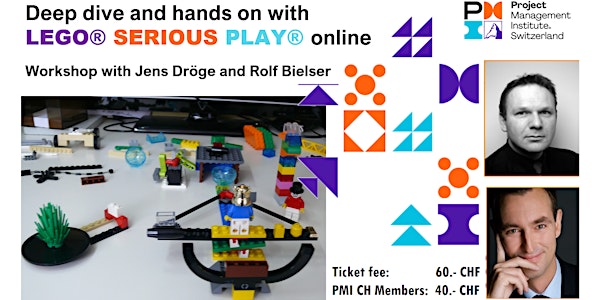 Deep dive and hands on with LEGO® SERIOUS PLAY® online
How can playing with LEGO bricks help to tear down emotional barriers and unlocks new learning? Find out with Online LEGO® SERIOUS PLAY®.
Refund Policy
Refunds up to 7 days before event
About this event
In this practical workshop you have the chance to participate in one of two sessions, giving you a thorough experience on the power of the LEGO®-brick.
Besides learning what LEGO® SERIOUS PLAY® is, participants will learn how the method tears down emotional barriers and unlocks new learning. You will have the chance to get 100% involved and choose your favorite hands-on topic:
Session 1: The working environment after Covid-19
Home office, Zoom-sessions and the like: Until recently things like that weren't part of everyday work. However, the Corona-virus has triggered changes in the way we work dramatically.
In this session you will find out what could characterize the working environment in a post-Cornoa-world apart from digitization and home office. Therefore, everyone will build an individual models and share the results. The following discussion will lead to further insights.
Session 2: What's required by today's virtual leader
Home office and virtual teams have all of the sudden become reality and kind of standard. This requires supervisors and managers to lead in a virtual environment. But what is required of them by their staff?
In this session you will slip into the role of a team member and work to define these demands. By sharing and reflecting your individual points of view you will gain further insights.
Teaching Aids:
For this workshop we use the Starter Set of LEGO® SERIOUS PLAY® with 46 parts. The needed LEGO® parts are pictured here.
You can order the Starter Set for 8.- CHF (6.- LEGO bricks + 2.- postage) when buying the ticket, in case you haven't this parts already available (as a LEGO® SERIOUS PLAY® set or from your kids).
Our facilitators:
Jens Dröge

Jens is Lead Trainer of LEGO® Serious Play® Methods and Materials for Germany, Austria, and Switzerland and German author of the standard-setting book "SERIOUS WORK – How to facilitate meetings and workshops using LEGO® Serious Play®". He was first in Europe to go online with the method and has become a pioneer in online-LEGO Serious Play. He built the first online shared model on the continent and has pushed the boundaries of the method ever since.
By background, Jens is a former Project Manager at Porsche Consulting, a trained Change Manager and Business Coach. He has trained more than 100 persons and facilitated more than 200 workshops with group sizes from 1 – 250.
Rolf Bielser

Rolf is CEO of Computare GmbH, a Swiss-based management consulting and training company, and Certified Facilitator of LEGO® Serious Play® Method and Materials. Rolf is fast-thinking and a go-getter, who has driven his company successfully through the past Corona-troubles. Rolf is also a lecturer for business informatics and agile methods at Luzern University. He loves people and working with teams, using LEGO® Serious Play® to get to their core, to get the most out of them

Event Language: English
Professional Development Units: 3
Strategic & Business Management: 1.5
Technical Project Management: 1.5

PMI Switzerland Members can get a reduced ticket
For our Swiss Members we offer a reduced ticket fee of 40.- CHF. Log in HERE with your PMI Switzerland credentials to access the reduced Members Tickets.
(Unfortunately this is only possible on the Eventbrite website; link does not work on app for mobile device!)
Payment with credit card
Unfortunately, PayPal Switzerland only accepts payment from users which have a PayPal account. For a workaround how you can pay with credit card click here.
Cancellation policy
100% refund is possible for a ticket if cancelled latest 7 days prior the event. But please understand that we cannot take back the LEGO Starter Set if it has already been sent to you.
Please be aware that our virtual events may be recorded and published on our social media channels.