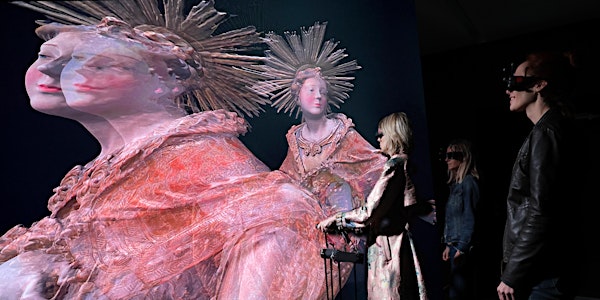 Deep Fakes: Art and Its Double - Guided Visits - Staff
Within the framework of the "Deep Fakes: Art and Its Double" exhibition, we're pleased to organize guided tours for our EPFL colleagues.
When and where
Location
EPFL Pavilions Place Cosandey 1015 Lausanne Switzerland
About this event
From the 17th of September, we are delighted to invite you to join us for guided visits through far-off lands of art, archeology and cutting-edge technologies. We want to bring you on a trip of the imagination, twice per month, with guided visits during lunch and evening musings followed by leisurely conversations with some of the leading voices of our zeitgeist, at Satellite Bar.
*All visitors will need to provide a COVID passport.
For full details, check out the event page on our website, and remember to subscribe to our newsletter. We'll continue to update this event booking page, and our website.
Dans le cadre de l'exposition *Deep Fakes : Art and Its Double*, EPFL Pavilions a le plaisir d'organiser des visites guidées pour les étudiants de l'EPFL.
Nous vous invitons à des voyages virtuels dans des contrées lointaines mêlant art, archéologie et technologies de pointe. Nous vous embarquons vers des merveilles culturelles et patrimoniales, deux fois par mois, avec des visites guidées durant le déjeuner, et des rêveries en soirée suivies de conversations tranquilles autour d'un verre à Satellite.
*Tous les visiteurs devront fournir un passeport COVID.
EPFL Staff Lunch Visits
Special guided visits for staff, with lunch bag provided at the end of the tour
- Dates : 7 October, 4 November, 16 December, 13 January- 12:15 - ONLY
- Places are limited to 25 people. Reservations required. Book your tickets below.
- Visites guidées spéciales, avec panier repas offert à la fin de la visite
- Dates : 7 octobre, 4 novembre, 16 décembre, 13 janvier- 12h15
- Le nombre de places est limité à 25. Réservation obligatoire.