Find out about innovative, actionable and market-driven solutions to tackle social and environmental issues
About this event
Am 18. November, am Social Entrepreneurship Day, laden wir euch herzlich ein euch bei Pitches vieler toller nachhaltiger und sozialer Startups in Basel inspirieren zu lassen. 
Im letzten Jahr haben wir uns wie die Champions vernetzt, viele Workshops gehalten, uns mit der Verbesserung von Business- und Wirkungscases befasst und viel gelernt. Unsere Startups freuen sich darauf euch unerwartete Lösungen für dringende soziale und ökologische Probleme zu präsentieren, zu erzählen wie man auch mit Misserfolgen umgeht, und ihre Erfolgsgeschichten zu teilen.
Wenn die Zahlen es erlauben treffen wir uns im Hub, sonst online. Das Event findet auf Englisch statt.
Wir möchten an dieser Stelle unseren Partner, Mentoren, Experten und Sponsoren CMS und Fondation Botnar herzlich für ihre Unterstützung danken.
*******
On November 18, Social Entrepreneurship Day, we invite you to get inspired by pitches from many great sustainable and social startups from Basel and beyond. Over the last year, we have networked like champions, held many workshops, worked on improving business and impact cases and learned a lot. Our startups are looking forward to presenting you  unexpected solutions to urgent social and environmental problems, telling you how to deal with failures, and sharing their success stories.
If Corona permits it, we will meet at the Hub, otherwise online. The event will be held in English.
We would like to take this opportunity to thank our partners, mentors, experts and sponsors CMS and Fondation Botnar for their support.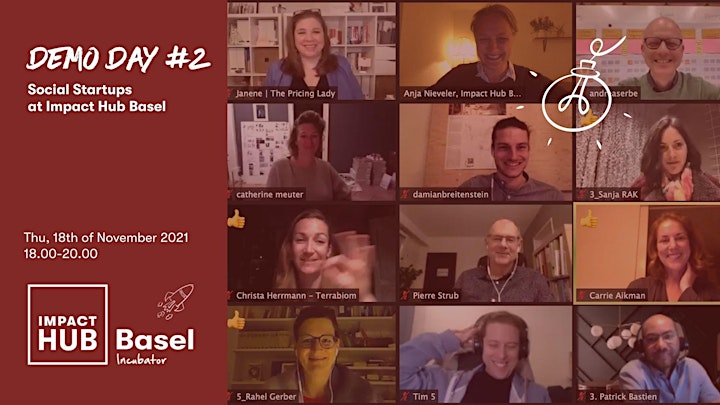 Impact Hub is a global network of over 16'000 members in over 100 hubs in 50+ countries, and is continuously growing. Its main purpose is to make a positive impact in our world by combining the skills of compassionate, committed and purpose-driven individuals focused on a common purpose. Each individual Impact Hub chapter is unique and relevant to the local community.
At Impact Hub Basel, our aspiration is to support social entrepreneurs and sustainable innovators. Through various offers ranging from events and coworking to different incubation and acceleration programs, we aim to promote the interaction between our members and the different stakeholders. In this way, we strive to create a highly collaborative ecosystem where innovation and change are encouraged, where access to expert resources, inspiration and knowledge is made easy and where communication and contacts between diverse, skilled people are facilitated.
All of our activities are guided by the 17 Sustainable Development Goals (SDGs) as defined by the United Nations. To ensure that our efforts are as successful as possible, we focus on five SDGs that are most relevant to our local community needs.
SDG 3 — Good Health & Well-Being
SDG 11 — Sustainable Cities & Communities
SDG 12 — Responsible Consumption & Production
Because the SDGs can only be realized with strong partnerships, you won't see SDG 17 Partnerships for the Goals on our list; but it is there in everything we do.
Subscribe to our monthly newsletter: newsbasel.impacthub.net