Der IZRS lädt zum traditionellen Raclette Essen am 19.12.21 in Luzern ein
Das Schweizer Nationalgericht mit der Gemeinschaft geniessen, deinen Imân stärken und neue Geschwister kennenlernen? Bei uns bist du richtig
About this event
Der IZRS lädt zum traditionellen Raclette Essen am 19. Dezember 2021 in Luzern ein.
Du möchtest das Schweizer Nationalgericht mit der Gemeinschaft geniessen, deinen Imân stärken und neue Geschwister kennenlernen? Dann reserviere dir den 19. Dezember und sei am traditionellen Raclette Essen kostenlos mit dabei.
Hast du mal wieder Lust auf einen gemütlichen Nachmittag, während die Kinder islamische Aktivitäten erleben und du die Zeit mit deinen Brüdern und Schwestern nutzen kannst? Dann bist du bei uns genau richtig. Denn auch für die Erwachsenen sorgen wir bekanntlich für gute Unterhaltung. So melde dich gleich kostenlos an*. Lade auch deine Bekannten und Verwandten ein. Wir freuen uns auf dich!
Gerne spendiert der IZRS das Raclette und die Getränke, freut sich aber, wenn ihr einen eigenen Racletteofen und leckere Salate oder Süssspeisen** mitnehmt.
Informationen
Datum: Sonntag, 19. Dezember 2021
Zeit: ab 13.00 Uhr
Ort: Luzern (die genaue Adresse wird nach Anmeldung bekannt gegeben)
Anmeldefrist: Samstag, 18. November 2021 12.00 Uhr
Kostenlos
* *Seit dem 13. September 2021, gilt im Innern von Restaurants, von Kultur- und Freizeiteinrichtungen sowie an Veranstaltungen in Innenräumen eine Covid-19-Zertifikatspflicht für alle ab 16 Jahren.
**Bitte achtet darauf, dass ihr nur Halâl-Produkte mitbringt. Fertigwaren bitte überprüfen, dass sie keine Emulgatoren wie z.B. E471 etc. mit tierischen Fettanteilen enthalten.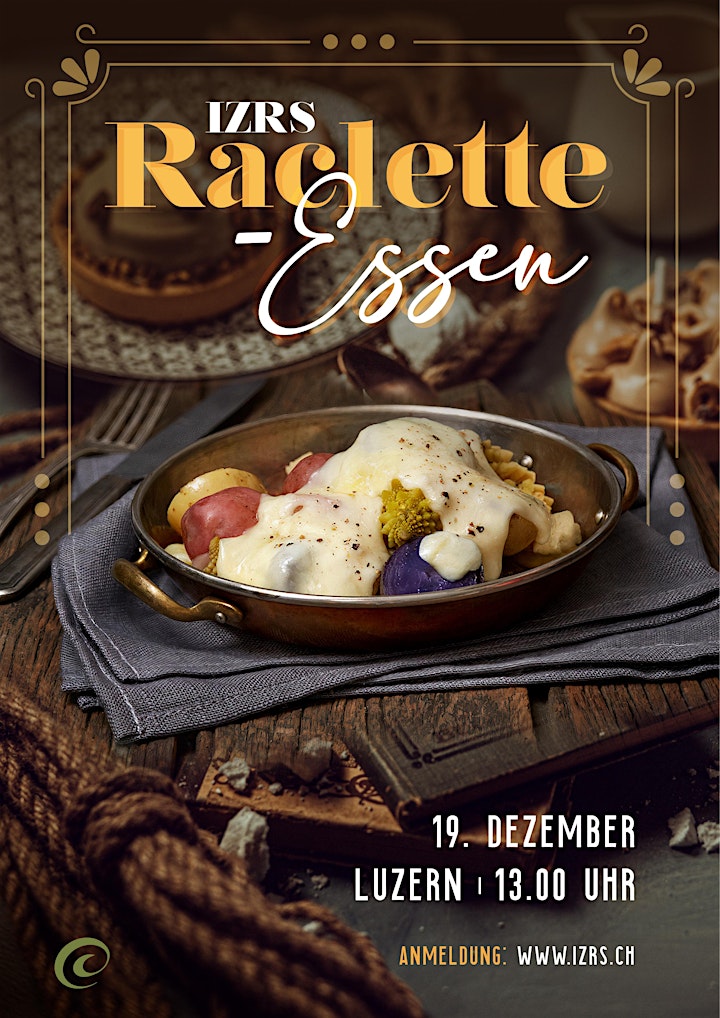 Organizer of Der IZRS lädt zum traditionellen Raclette Essen am 19.12.21 in Luzern ein
The Islamic Central Council of Switzerland (ICCS) is the Switzerland's largest and only Muslim grass roots body with roughly 4'000 registered members. It was founded in 2009 and has developed since to a wide range of services to the Islamic communities and Muslim individuals in Switzerland. This includes a couple of major events with 2,000 attendees such as the Annual Conferences 2011-2014 and the Day Against Islamophobia & Racism held at the Federation Square in 2011.