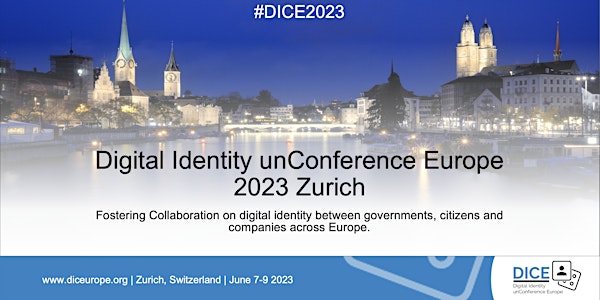 Digital Identity unConference Europe 2023 Zürich / #DICE #1
Fostering Collaboration on digital identity between governments, citizens and companies across Europe.
Location
TRUST SQUARE Poststrasse 5-7 8001 Zürich Switzerland
Refund Policy
Contact the organizer to request a refund.
About this event
2 days 7 hours

Mobile eTicket
For the last 18 years a conference in California called the Internet Identity Workshop has been gathering people from all over the world to consider how people can own and control the digital representations of themselves. This event fostered the innovation of a first generation of standards such as OpenID and OAuth. In the last 7 years a next wave of Decentralized Identity standards have emerged and are now getting accelerated adoption globally.
The time is right to host an event for Europe with the same Open Space Technology unConference format that the Internet Identity Workshop uses. This event will bring together innovative startups, bold large companies, and governments, who are building products and developing services using emerging digital identity technologies. One of the goals for the event is to foster a more connected ecosystem of companies working in European Countries.
This event is inspired by IIW and is being co-organized by one of the founders, Kaliya Young and longtime event producer Heidi Nobantu Saul.
The co-organizer and location of the event is Trust Square in Zurich and is the perfect location for this first gathering, in terms of meeting space available, proximity to the train station and a variety of lodging options. Zurich is in the heart of continental Europe, a place where a lot of innovation is happening, especially also in the world of decentralized technologies, with world leading universities (e.g. University of Zurich and ETH) and easily accessible by train and plane from anywhere in Europe and the world (we have excellent plane connections from Zurich airport)
June 7 – Pre-Conference
Intros, Talks and Panels focused on digital identity for governments
If you are a newcomer in SSI you can get the basics
If you are working for or in agovernment that is perfect for exchanging experiences
June 8-9 – 2 Day unConference
We co-create the agenda live in person first thing in the morning each of the two days.
This process is facilitated by experts and generates very alive session topics.
Notes for each Session are taken and submitted to be compiled onto a Book of Proceedings that is shared after the event.
Some of the best interactions at #DICE2023 will happen over a drink or meal. Dinners and Reception are included in the price of your ticket so there is plenty of time to continue conversations and network.
https://diceurope.org
About the organizer
Located in the heart of Switzerland's commercial center, Trust Square provides a space for innovative ideas to flourish. With disruptive technologies as the common denominator, Trust Square connects entrepreneurs, early-stage ventures, businesses, investors and academics and allows them to pursue their visions in an open, versatile and diverse environment.
Trust is not only about technology per se, but also about open dialogue and the integration of appropriate applications into society. It's beyond technology. No matter what technology you're engaged in, join us and our network of experts, find inspiration and the resources to pursue your vision.
Stay up-to-date about all our events with our Newsletter: https://trustsquare.ch/en