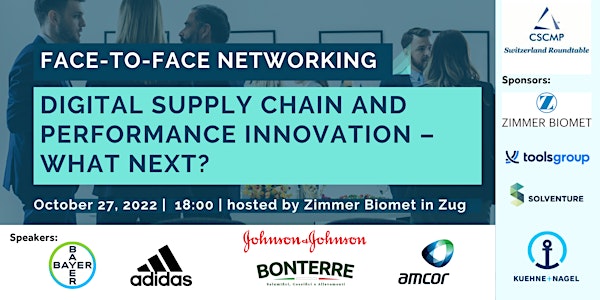 Digital Supply Chain and Performance Innovation – What next?
Our speakers will explore the impact of digitalisation on supply chains and how various new technologies impact supply chain performance
When and where
Location
Zimmer Biomet 4 Zählerweg 6300 Zug Switzerland
Refund Policy
Contact the organizer to request a refund.
About this event
The rapid growth of technology and digitalization led to an incredible development of Supply Chain systems, solutions and automation. In fact, we are seeing a more integrated Supply Chain and technologically advanced applications to help professionals deal with an extremely volatile and uncertain environment. With a smart usage of big data, analytics and predictive capabilities for decision making, it is expected that digitalization brings increased profitability and business-wide efficiency. Besides, due to the increasing concern for the environment and climate change, companies have the challenge of achieving higher levels of sustainability and anticipating risks.
In this event, we will explore how digitalization adds value and enables performance innovation. Our brilliant speakers bring in very valuable experience on the subject and will take the challenge to answer the following questions:
✅ What value has digitalization brought and in which Supply Chain areas and functions?
✅ Which systems were transformed and did they make Supply Chain more performant and resilient?
✅ How did it impact performance and for what return?
The event closes with a networking gathering and Apero allowing you to connect with fellow supply chain professionals.
The event is hosted by Zimmer Biomet and sponsored by ToolsGroup.
Our Speakers and their Sessions:
Wayne Rothman, VP Value Chain Management at Johnson & Johnson
Supply Chain design, Optimisation and E2E Trade offs: doing it right from the start
Too often we inherit product value chains and have to retrospectively diagnose and optimise but also find the value levers. What if we at launch already knew the value levers, and build diagnostics into our workflow from the start? This session will talk through the benefits and potential of leveraging Digital Interactive Value Stream Maps, Digital twins and how having a reference design and performance at launch will help with options Modeling and optimisation.
Christos Matzaridis, Head of Supply Chain Amcor Flexibles EMEA
Digital Supply Chain – Getting the basics right is the first step to digital transformation
Amcor SC is on a transformational journey. Implementing a Digital Supply Chain agenda is viewed as an enabler to integrate its legacy decentralized operating model and approach. The ambition is to move to an integrated SC operational model where end-to-end connectivity and visibility allow intelligent and informed decision making. As we are implementing this vision, we are resolving the challenges of a legacy IT infrastructure with non-standardized data, processes & organization. Fixing the basics in Amcor is the correct first step to its digital transformation and brings immediate value while it paves the way for more advanced solutions.
Arthur Muguet, Senior Director, Strategy and Programs, Global Operations at Adidas
The challenge of leveraging data in Supply Chain
Current best in class supply chain models often rely on leveraging data efficiently and feature advanced digital capabilities such as digital control tower, «lights-out» planning, and automated scenario planning, but the reality in most organizations is often very far from this vision. What is preventing organizations from using their data more efficiently to guide decision making, and what would an improvement journey look like?
Radovan Simic, Digital Transformation Lead SCM at Bayer CropScience
Realizing transformative Operational Excellence benefits in SCM through data-driven Hyperautomation technologies.
Understanding how work happens on the ground will surprise many professionals. While organisations believe 80% of work in SCM happens mainly on ERP systems, the reality shows that it is less than 40%. Which essentially means that the major potential of waste reduction and process improvement lies outside of the transactional processes. Radovan will share his experience at Bayer over 5 years using Task Mining and Robotic Process Automation technologies in order to drive Operational Excellence at scale and their success factors, such as change management and adoption of new technologies inside the organisation.
Massimo Corradi, Supply Chain & Logistics Director at Bonterre
Outsmarting CPG Uncertainty: How Bonterre Improved Service with E2E Data-Driven Supply Chain Planning
Learn how meat and cheese producer Bonterre guarantees high service levels for its products and optimizes total supply chain costs despite demand and supply uncertainty. Learn how a data-driven approach, starting from the market demand, enables an agile and resilient supply chain that delivers positive business outcomes while reducing time, effort, and inventory.