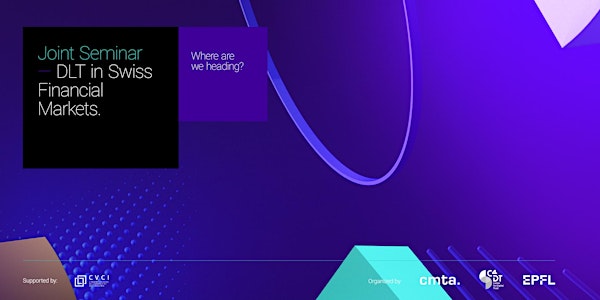 DLT in Swiss financial markets - Where are we heading?
Experts debate the most important questions for the development of DLT in financial markets
By Capital Markets and Technology Association / Center 4 Digital Trust
Date and time
Thursday, June 6, 2019 · 5 - 8pm CEST
Location
SwissTech Convention Center EPFL 1024 Ecublens Switzerland
About this event
This joint CMTA – C4DT conference will be held on 6 June 2019 at EPFL's SwissTech Convention Center from 5 p.m. to 7 p.m, following on from the EPFL School of Computer and Communication Sciences' Research Day. Speakers and panelists at the conference will debate some of the most important current questions for the development of the digital ledger technology in financial markets. They will in particular discuss the first experiences made in Switzerland with the tokenization of securities and the professional custody of digital assets, as well as the future shape of trading platforms for digital assets.
Speakers:
Yvan Cardenas, (CFO, Swissquote Bank SA)
Sébastien Dessimoz (Co-founder & Managing Partner, Taurus Group SA)
Prof. Ruediger Fahlenbrach, (Associate professor, Swiss Finance Institute, EPFL)
Dr. Jacques Iffland (Partner, Lenz & Staehelin)
Ralf Kubli (Director, CV VC AG)
Prof. James Larus (Dean of the School of Computer and Communication Sciences, EPFL)
Sam Maxson, (Capital Markets, Latham & Watkins)
Fedor Poskriakov, (Partner, Lenz & Staehelin)
Arnaud Salomon, (CEO, Mt. Pelerin Group SA)
Lars Schlichting (CEO, Poseidon Group AG)
Bertrand Schott (Partner, Niederer Kraft Frey)