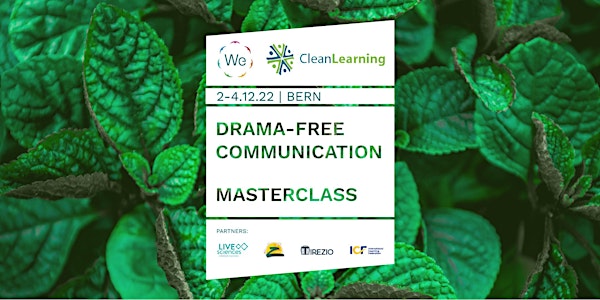 DRAMA-FREE COMMUNICATION
We X CleanLearning in Bern: Caitlin & Marian, worldwide experts in Clean Language are delivering a masterpiece for Coaches and Leaders.
When and where
Location
Kreuz Bern Modern City Hotel 41 Zeughausgasse 3011 Bern Switzerland
About this event
★ MASTER CLASS
DRAMA-FREE COMMUNICATION
Building a generative place to live / to work
Would you like some new ideas, tools and strategies to change the way you're thinking about and reacting to the drama situations you, your clients or your team may find yourself in?
During this awakening Friday – or even better during this deepening 3 days weekend – they will offer the respectful stance of Clean Language, along with other tools, including clean questions, to encourage you to get curious about dramas, unpack the key pieces, separate evidence from inference, come to understand what is actually happening and what you can do to move from contempt to curiosity.
First in Switzerland:
Masterclasses are facilitated by Caitlin Walker & Marian Way, internationally recognized experts in organizational, team, individual coaching and Clean Language. They are also authors of numerous revolutionary books on coaching, teaching, systemic and business.
What you will learn:
Discovery of the respectful posture of Clean Language, as well as other precious tools
How to better manage relationships, conflicts, dramas
Acquisition of a clear thought for you, your customers and those around you
Who is it for?
Coaches looking for new ideas, tools and strategies to use with their clients
Leaders & Managers
Anyone going through external or internal conflict and looking for resolution
No prerequisites
Format:
Face-to-face
Course in English
Course materials in French, English and German
Exchanges and discussions in French, English and German
★ MASTERCLASS 1 – DISCOVERY : 1 DAY 02.12.22
★ MASTERCLASS 2 – TRAINING : 3 DAYS 02-04.12.22