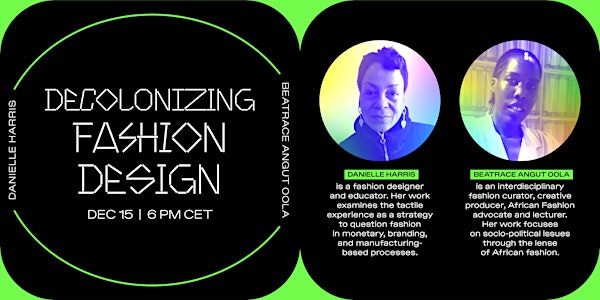 Educators In Correspondence: Decolonizing Fashion
This moderated talk discusses fashion's entanglements in multiple systems of exploitation and orientations to begin undoing these harms.
About this event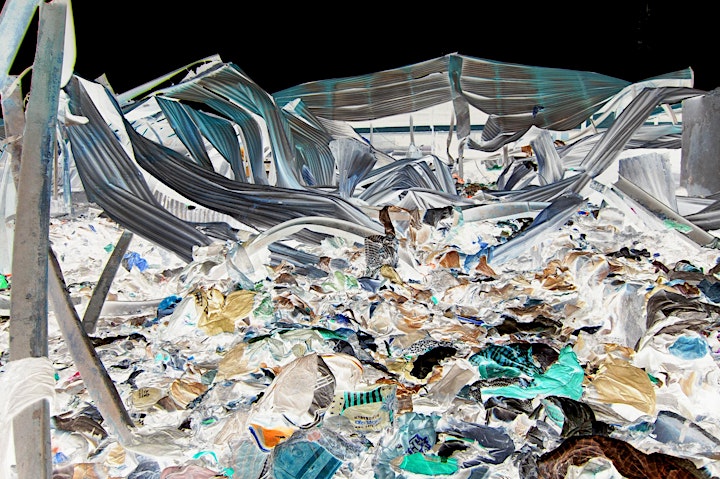 Our clothes wrap us into larger systems of power and oppression, but they can also be garments for liberation. From sourcing and manufacturing to exporting waste, our clothes are a product of land and labor. Their fabrication relies on an underpaid and undervalued workforce, usually in so-called "fashion sacrifice zones" in the Global South. There, primarily women face dangerous working conditions to sustain a chain of profit accumulation from which they will never benefit. Back in the Global North, clothes are worn for a brief period before moving into a global resale market entangled in "waste colonialism."
When confronted with calls for change, the fashion industry often responds with empty acts of greenwashing and "wokefishing." Meanwhile, this perverse system deepens the disconnect from local regenerative fashion systems. How can we imagine fashion systems otherwise, centering the well-being of people and all living beings in their sovereign environment? What's the role of fashion design education in enacting and sustaining this change? How can individuals creatively take action, and connect clothing and body more holistically? These are some of the issues discussed in this moderated conversation between interdisciplinary fashion curator and creative consultant Beatrace Angut Lorika Oola and fashion design educator Danielle Harris.
Beatrace Angut Lorika Oola (she/her) is founder of the digital information platform Fashion Africa Now, and the creative agency APYA Productions. She works in various capacities as a consultant, lecturer, speaker, interdisciplinary curator, and creative producer, with a focus on sociopolitical issues through the lens of African fashion. Born in Neuss, Germany, she grew up in Uganda and Germany, and today she splits her time between Kampala, Uganda and Hamburg, Germany. Since 2012, she has been working in the cultural and creative sector, promoting visibility for contemporary Black fashion designers in Germany and throughout Europe. She has spearheaded the conversation around inclusivity and representation, and is also a pioneer in the global African fashion movement.

Danielle Harris (she/they) is a fashion designer, facilitator, and educator at the FHNW Academy of Art and Design in Basel, Switzerland, where she works with BA and MA students, striving to expand the conventional understanding of design practice towards a more holistic approach of clothing and body. As a BIPOC queer femme and gender non-conforming individual, Dreier-Harris's work examines the tactile experience as a strategy to question fashion in monetary, branding, and manufacturing-based processes. Her progressive teaching methods range from conceptual drafts to practical assembly procedures, and center around the question: which goods have which value? Dreier-Harris is the founder of Taktil, a platform dedicated to curating cross-professional craft dialogues that captivate, teach and inspire. She is also the co-founder of KO. — CO., a network of Black trans*, intersex, non-binary, femmes, and women in German-speaking Switzerland. KO. — CO. initiates processes and actions to combat structural racism, and aims for social, cultural and political self and community empowerment.
This event is possible thanks to a generous grant from ProHelvetia.