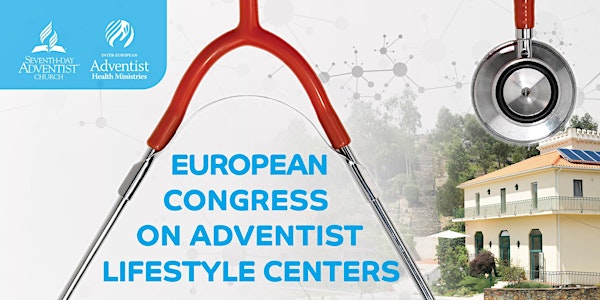 European Congress on Adventist Lifestyle Centers
How to start, develop and manage a lifestyle center in Europe.
By Health Ministries Department - EUD
Date and time
May 30 · 9am - June 3 · 9pm WEST
Location
St Francis Convent 1a Avenida da Guarda Inglesa 3040-193 Coimbra Portugal
About this event
A CHURCH AHEAD OF HER TIME
Over 100 years ago, Adventists helped to revolutionize medical care. Lifestyle habits became important factors in disease prevention and treatment. A new concept was developed – the sanitarium – places where medical care was offered, combining the best health related technology, with lifestyle habits such as optimal nutrition, physical activity, temperance, a personal relationship with God and social support. Sanitariums became centers of excellence in health care, where patients were cared wholistically.
A REFERENCE TO THE WORLD
Adventists continue to be at the forefront of health care in the 21st century. Advances in medical science have increased life-expectancy and quality of life. But science continues to confirm the importance of lifestyle habits as the most important factor in disease prevention and as adjuvant contributors in treating disease.
A MODEL FOR THE PRESENT AND THE FUTURE
Modern-day Adventist hospitals are lighthouses of hope. However, increasing building, equipment, and operational costs have contributed to shorter hospital stays and an increased focus on patients´ most urgent health needs.
A modified concept of the "old" sanitarium has emerged over the past few decades - the residential Adventist Lifestyle Center. These are smaller institutions, usually located in the countryside, where patients are helped to improve their health habits outside an acute care environment. Building and operational costs are also much lower. These centers provide the best adjuvant lifestyle related care, for prevention and treatment of disease.
A UNIQUE OPORTUNITY
The European Congress of Adventist Lifestyle Centers aims to strength the work of existing centers and to promote the opening of new ones in Europe. It will provide training on the most important issues related to the establishment and management of lifestyle centers, independently of size.
If you are working in an Adventist lifestyle center or wish to open a new one, this congress is for you! Don't miss this unique opportunity to be part of a God driven movement to reach the world with His message of hope and healing.
Health professionals
Church administrators
Health Ministries Directors
Hospitals and Lifestyle Centers administrators
Lifestyle centers´ workers
Students in health sciences (medicine, physical therapy, psychology, nutrition, nursing etc)
Persons who wish to open lifestyle centers
God´s purpose and models for residential wellness centers
Relationship between institutions and the Seventh-day Adventist Church
Acceptable health practices in residential Adventist wellness centres
Sharing spiritual values with patients and guests
Types of programs to be offered
Staffing a residential wellness center
How to start… Some essential principles.
Networking: a wish, an option or a must?
Governance and administration models and practices
Location and building plans
Costs and financial sustainability
Marketing strategies
Hotel-based lifestyle programs: a good way to start
How to organize a daily schedule for different programs
Acceptable health practices in residential Adventist wellness centres
Sharing spiritual values with patients and guests
Emotional health in lifestyle programs
Health coaching in residential lifestyle centers
Dealing with hidden addictions in lifestyle centers guests
And other topics...
THINK TANK
A unique opportunity to share your project with specialists.
- Individuals and groups can submit their projects to start residential wellness centers, to the Congress organizers. (please contact the organizers to receive information on how to submit your presentation).
- Congress organizers will review each presentation and select up to 6 projects to be presented to a group of specialists, during the plenary sessions, on Wednesday and Friday afternoon, in front of a large audience.
- A representative of each selected project will have 4 minutes to present their project during the afternoon plenary sessions.
- The specialists will question and advice the representatives of each selected project.
TESTIMONIES
Stories on how institutions started and maintain operations. Challenges and blessings. 30 minute presentations. Interview-type approach. Followed by a Q&A period from the audience.
Registration fees include:
congress attendance (plenaries and workshops),
any curriculum related materials presenters may which to distribute to all participants attending their workshops
conference bag
water during the congress hours (8.00 to 21.00)
Prices:
- Early-bird (until midnight on April 15, 2023): 190 €
- Standard registration: 250 €
- Students (health related courses)*: 110 € (students must provide proof of registration in a health related course).
IMPORTANT: NO on-site registration available. Prices do NOT include Accomodation or Meals.
Which payment options are available?
You can easily pay with your PayPal account or with your Credit Card. The following video explains registration step by step.
Sao Francisco Convent Conference Center - Coimbra, Portugal
The Sao Francisco Convent was built between 1602 and 1659. In 2005 it was rebuilt as a modern, state of the art conference center while retaining much of its original architecture and "ambiance".
https://www.coimbraconvento.pt/pt/galeria-imagens/
Coimbra is an ancient city located on the Mondego river, 40 km from the Atlantic coast. Once the Portuguese capital, it is home to one of the oldest universities in the world, founded in 1290. Its rich history and central location make it the ideal place to spend a few days visiting the region before or after the congress.
https://en.wikipedia.org/wiki/Coimbra
Ted Wilson, Pastor, PhD
President, General Conference of Seventh-day Adventists
Peter Landless, MD
Director, Health Ministries, General Conference of the Seventh-day Adventist Church
Neil Nedley, MD
President at Weimar Center of Health & Education
Owner Nedley Clinic & Nedley Health Solutions
Juan Carlos Picasso, Pastor
Chaplain, past director of the Adventist Lifestyle Center, Entre Rios, Argentina
Zeno Charles-Marcel, MD
Associate Director, Health Ministries, General Conference of the Seventh-day Adventist Church
Sidionil Biazzi, Pastor
Founder, Clinica Vida Natural, Sao Paulo, Brazil
Retired President, Paulistana Conference of the Seventh-day Adventist Church
Nick Dan, MD
Founder, Herghelia Lifestyle Center
Director, Health Ministries, Muntenia Conference of Seventh-day Adventists
Vice-president, OCI (Outpost Centers International)
Erica Nedley, Physical therapist
Co-founder, Nedley Clinic
Charles Cleveland, Pastor
Founder, Health Education Resources
Past Vice-president, OCI (Outpost Centers International)
Consultant in multiple projects to start wellness centers worldwide
Daniel Seniuc, Physical Therapist
Organizer of hotel-based residential wellness programs
Viriato Ferreira, MD
President, Portuguese Association of Preventive Medicine
Director, VitaSalus Wellness Center
Director, Health Ministries, Inter-European Division of the Seventh-day Adventist Church
There are a number of hotels and bread&breakfast type accommodation located within walking distance of the Sao Francisco Conference Center. Booking should be made through web-based companies such as Booking.com, Hotels.com, Trivago, Expedia, Airbnb or directly with the hotels. Accommodation costs are not included in the registration fee.
You can pre-order lunches and light suppers when you register for the congress. These meals are pre-packed, vegetarian and without dairy products or eggs. The pre-ordered, pre-packed meals will be available for collection at the congress center immediately after the program ends in the mornings and afternoons (including Sabbath).
Informal sitting facilities will be available on site, where you can eat your pre-packed meal. You can also eat your pre-packed meals at one of the nearby gardens or by the river. Pre-packed lunches and suppers must be ordered and paid when you register. Costs are not included in the registration fee.
Pre-ordered Meal Prices:
- Lunch: 12€
Hot meal, salad, dessert and 330 ml bottle of water or 200ml of 100% fruit juice
- Supper: 9 €
Soup, baked pie/pastry or similar, fruit, 200 ml of plain soy drink or 330 ml bottled water.
IMPORTANT: Pre-packed lunches and suppers must be ordered and paid w registration. Costs are not included in the registration fee.
Consult the menus HERE and order your pre-packed meals when you register.
Alternatives to the pre-packed meals
There are many restaurants within walking distance from the conference center. Most restaurants offer lacto-ovo vegetarian options.
Alternatively, you can buy food at one of the local chain supermarkets within walking distance from the hotel or conference center.
There is a nearby ALDI (5 minutes walk), LIDL (17 min walk) and Continente Modelo (20 min walk).
Coimbra is easily accessible by train, bus or airport shuttle services, from Lisbon or Porto international airports.
Lisbon (LIS) – distance Coimbra ca 197km, 2hrs
Porto (OPO) – distance Coimbra ca 135km, 1.30hrs
Here are a few links you may find useful.
TRAIN
HOW TO GET TO THE TRAIN STATIONS FROM THE AIRPORTS?
The cheapest way is by METRO. Both airports have METRO train stations.
LISBON: get the METRO and get off at the ORIENTE station. Then, go up the escalator, buy your train ticket to Coimbra station (NOT Coimbra-B station) and enjoy the journey. We advise you to get the Intercity or Alfa train.
PORTO: get the METRO and get off at the CAMPANHÃ station. Walk a few meters to the train station, buy your train ticket to Coimbra station (NOT Coimbra-B station) and enjoy the journey. We advise you to get the Intercity or Alfa train.
• You can buy the METRO ticket at one of the machines at the airport METRO stations. It is useful to get a 5 € or 10 € notes. METRO tickets vary from 2 to 3 € each.
You can buy your TRAIN tickets using the following website: https://www.cp.pt/passageiros/en
BUS: https://rede-expressos.pt/en
AIRPORT SHUTTLE: https://www.airportshuttle.pt
Phone: +351 304 505 304
Email: coimbra@airportshuttle.pt
Please contact the airport shuttle service if the scheduled times don't fit with your flights; they will attempt to look for suitable schedules to guarantee a 10% discount.
1. Choose your route (Lisbon or Porto Airport to Center of Portugal), type of ticket (single or return) and dates of travel.
2. Choose one from the available times, on the left side of the screen:
3. The price will appear for a trip to the city of Coimbra. Click Continue.
4. Now you will be able to choose the drop-off location accurately. Just go to the bar and write "Convento São Francisco, Avenida da Guarda Inglesa, Coímbra". An option will come up and click on it.
5. If you wish to proceed to payment just click on Continue and you will be taken to the payment page.
The VitaSalus Lifestyle Center is a pioneering institution located in the mountains, 30 km from Coimbra. A guided tour to the center is scheduled for Sabbath afternoon, June 3, as part of the program and without extra cost for you.
Frequently asked questions
Which payment options are available?
When does Congress start?