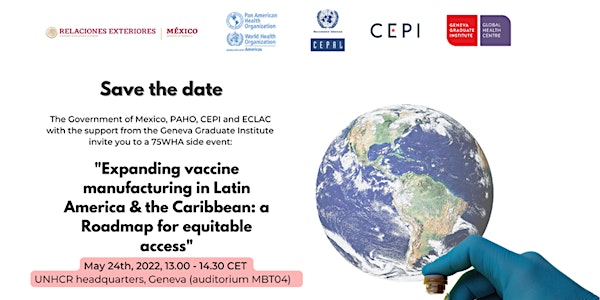 Expanding vaccine manufacturing in LAC: A Roadmap to equitable access
Event will take place in a hybrid format (Webex). Lunch will be provided for in person attendees.
When and where
Location
United Nations High Commissioner for Refugees 94 Rue de Montbrillant auditorium MBT04 1201 Genève Switzerland
About this event
In 2021 and 2022, the Government of Mexico, the Pan American Health Organization (PAHO), the Economic Commission for Latin America and the Caribbean (ECLAC) and the Coalition for Epidemic Preparedness Innovations (CEPI) convened a series of workshops with experts from the Latin American and the Caribbean (LAC) region to identify opportunities to improve preparedness and response to health emergencies.
More than 200 experts participated in these workshops, focusing their discussions on the challenges and opportunities for increasing vaccine development and manufacturing in the region as a measure to promote equitable access to medical supplies.
The workshops resulted in the development of a draft Roadmap proposed by the co-organizers, which sets out six lines of action to strengthen the region's capacities in this area, including the creation or consolidation of regional mechanisms for epidemiological surveillance and participation in clinical trials; the promotion of investment in R&D and technology transfer; regulatory strengthening and convergence; and the sustainable financing of public goods for the region.
The side event aims to:
Address the challenges of one of the regions most impacted by the COVID-19 pandemic and the unequal access to medical supplies;
Share recommendations included in the draft Roadmap;
Examine how the proposed actions for the LAC region are aligned with global
Agenda
12.20 - 12.55 Lunch
Moderator: Prof. Suerie Moon, Co-director of the Global Health Center, Geneva Graduate Institute.
13.00 Welcome and opening.
Amb. Francisca Mendez, Permanent Representative of Mexico to the United Nations, Geneva.
13.05 Setting the scene. A draft Roadmap for LA&C.
Amb. Ulises Canchola, Mexico's Representative to CEPI and Ambassador to Norway.
13.15 - 13.45 Panel. Ensuring equitable access through regional endto-end mechanisms: challenges and opportunities.
Dra. Carissa Etienne, Director of the Pan American Health Organization (TBC).
Dr. Frederik Kristensen, Deputy CEO of the Coalition for Epidemic Preparedness Innovations.
Amb. Ulises Canchola, Mexico's Representative to CEPI.
14.00 - 14.40 Interactive dialogue. Ownership & equity: developing national, regional and global schemes, to face future health emergencies
Dra. Carla Vizzotti, Minister of Health of Argentina.
Dr. Kang-ho LEE, Deputy Minister for the Global Vaccine Hub, Ministry of Health of the Republic of Korea (virtual).
Dr. John Arne Røttingen, Ambassador for Global Health of Norway.
Dr. Rogerio Gaspar, Director, Regulation and Prequalification Department, Access to Medicines and Health Products Division, the World Health Organization.
Closing remarks.