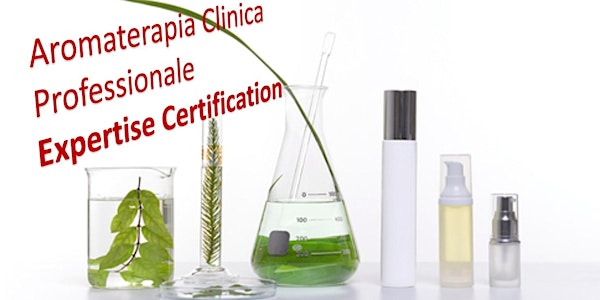 EXPERTISE CERTIFICATE - IN AROMATERAPIA CLINICA INTEGRATA BASE
Percorso Expertise, conoscere tutti gli aspetti degli oli essenziali dalla chimica all'efficacia biologica, all'uso per le gestire emozioni.
When and where
Location
Centro Socio Sanitario Professionale 14 Via Ronchetto 6900 Lugano Switzerland
Refund Policy
Contact the organizer to request a refund.
About this event
Il percorso si articola in tre moduli fornendo una visione a 360 ° del mondo dell'Aromaterapia. Verranno presi in esame 24 oli singoli sia dal punto di vista efficacia biologica che emozionale. Questi andranno a formare un bagaglio aromaterapico molto vasto, consentendo all'partecipante di affrontare innumerevoli situazione fisiche ed emozionali.
Particolare attenzione verrà data alla chimica elementare degli oli essenziali spiegando come la conoscenza ci permetterà di fare associazioni di Oli in una maniera strutturata e consapevole.
Il percorso presenta due formazioni in Presenza ,preferibilmente, e una Live Online. Per coloro che fossero veramente impossibilitati alla presenza può essere fatto anche interamente online.
DOCENTE: Steve John Chiola - Naturopathic Physician & Clinical Aromatherapy Specialist
Nel rispetto di una ottimale formazione didattica si raccomanda di seguire l'ordine dei Moduli riportati nella scheda descrittiva del PerCorso e quindi scegliere le date in maniera adeguata.
I MODULI
I. CORSO: LE BASI DELL'AROMATERAPIA CLINICA INTEGRATA
Corso LIVE ON LINE & IN PRESENZA (se le condizioni lo permetteranno)
12 FEBBRAIO & 19 FEBBRAIO DURATA 2 giorni – 14 ore
II. WORKSHOP: CHIMICA DEGLI OLI ESSENZIALI: UNA LETTURA AFFASCINANTE E PRATICA
Corso LIVE ONLINE -
5 MARZO DURATA 1 giorno – 7 ore
III. CORSO: LE BASI DELL'AROMATERAPIA CLINICA PER LE EMOZIONI
Corso IN PRESENZA (se le condizioni lo permetteranno)
26 MARZO & 2 APRILE DURATA 2 giorni – 14 ore
__________________________________________________________________________________________
DURATA TOTALE Giorni 5 - Ore: 35 ore
COSTO: Euro 550 / CHF 574.
- se nella scheda di Registrazione hai opzionato SALDO TOTALE sceglierai ISCRIZIONE PERCORSO
- se nella scheda di Registrazione hai opzionato PROMOZIONE + VERSAMENTI seleziona il Biglietto Iscrizione 1° Versamento - per effettuare il versamento di 275 Euro / 287 CHF
Alla conferma d'iscrizione che riceverai dalla Segreteria di Holos Academy riceverai le istruzioni per il saldo del 2° Versamento.
ATTENZIONE: Il Percorso, rispetto all'iscrizione ai singoli Corsi è scontato!
Sei un Ex-Allievo e ti manca uno o più moduli per completare il PerCorso- CONTATTA la Segreteria, inviando gli attestati del moduli già frequentati e concorderemo la tua Partecipazione per il Completamento, naturalmente con l'iscrizione al modulo/i che mancano!
L'Iscrizione comprende – Materiale Didattico (PDF) – Kit tester Oli per esercitazione pratica –Verifica finale- Consegna del "Expertise Certificate" che attesta la partecipazione e completamento del Percorso