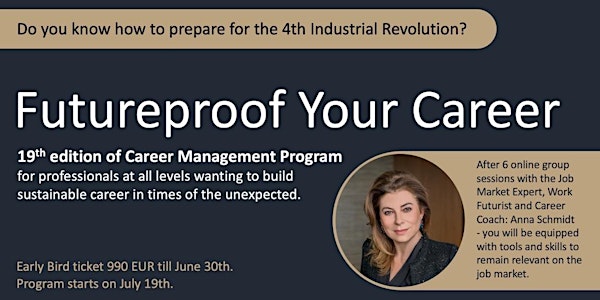 FUTUREPROOF YOUR CAREER 10-step Group Career Management Program
Refund policy
Refunds up to 30 days before event
10-step Career Management Program with Anna Schmidt, CEO of Schmidt and Partners and Future of Work Institute, Founder CPI Coaching School
About this event
This program will leave you prepared, and in effect, confident about your future.
You will be equipped with insight job market knowledge, applicable tools and a roadmap to be ready for any career pivots.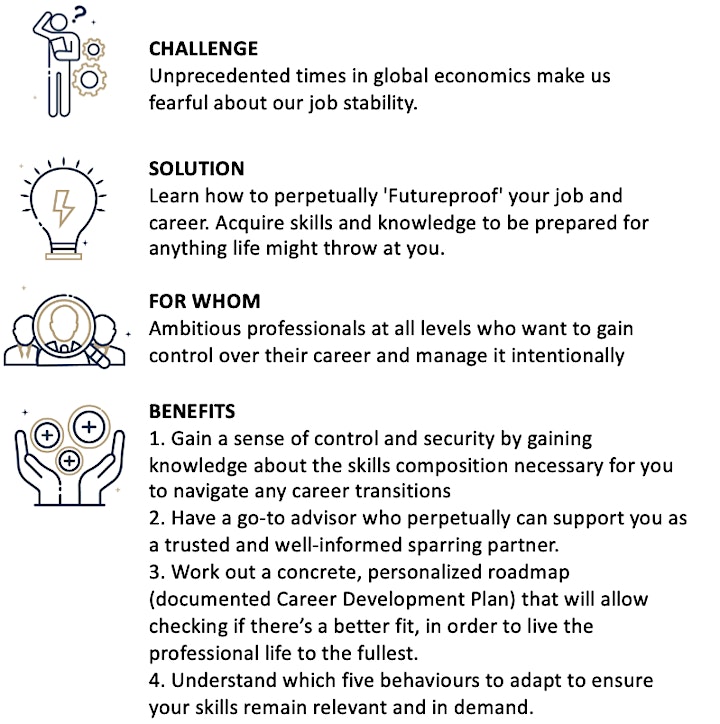 Upon completion you will: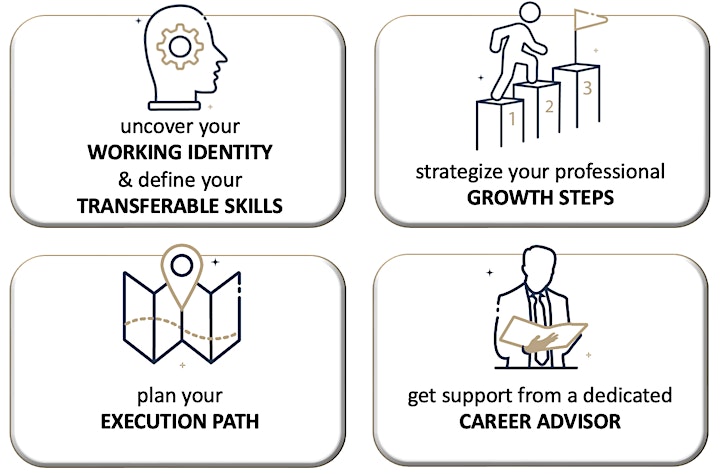 "Futureproof Your Career" group program is Practical, Intensive, Actionable.
I created fully immersive, bespoke "Futureproof Your Career" program with ambitious leaders in mind. It is a tailored combination of knowledge transfer through inside job market advice, coaching, career counseling and mentoring.
I guide you, I share the expertise, provide recommendations and the latest work market data so you can make informed decisions—and I hold you accountable. You will leave the program with concrete tools, Plan B and a personalized Career Growth Plan. You will leave the program feeling confident and calm about your professional future.
Over the 27 years of leading business I have developed the expertise to support clients seeking direction, struggling with burnout, striving to reach a new professional level, and wishing to reinvent themselves or re-ignite motivations.
I help leaders discover what they truly want from their work and design for themselves careers that optimize impact and align with their purpose. All this, while earning high compensation and teaming with people they care about.
Having supported over 6000 leaders in career transition (outplacement, onboarding, advancement), I have gained the experience to help managers grow, adapt, and thrive in disruptive VUCA environments.
In 2012, I found Future of Work Institute – a think tank that researches and develops career-related solutions (engagement, motivation, purpose, gratitude) for organizations and their leaders. I bring first-hand expertise about the future job market to my clients – practical insights and real-life, applicable tools.
I'm privileged to support top talent from:
Disney, 3M, Coca-Cola, Siemens, Biogen, UBS, Credit Suisse, Novartis, ADM, Morgan Stanley, Deloitte, BCG, Accenture, Colgate, IKEA, Dupont, Bayer, Johnson & Johnson, Klarna, Revolut and many others.
After 28 years in banking, I felt stuck, and it was time to look for some options. I wanted to change something but wasn't sure how to transfer my skills to a new role or industry. My previous boss made a recommendation to work with Anna and her team. At first, I joined the 11th edition of the group program, then followed with 1:1 sessions. Thanks to Anna, I explored various work identities methodically and secured two aligned with my interests and, financial needs, career paths.
Frederic O., Lombard Odier Group, London.
I was part of the 3rd edition of the "Futureproof Your Career" program led by Anna, during which time I gained deep insights into the C-level options of the job market. I clearly defined what I can do to align my career choices with my life's biggest goals and workout out concrete next steps. During the course of the program, I was held accountable, and to me, that was one of the most valuable elements of the program structure. Throughout these 6 months, I achieved more clarity (which translated into decisive actions), than in my 30+ years of work-life, where I continually felt that I was thrown into different roles unwillingly. Today, I feel prepared and in control of my professional future.
Josephine, Group Customer Office, ZIG.
If you are looking for ways to optimize your career and need trusted guidance to see that you're capable of taking calculated risks and reinventing your career dreams, I wholeheartedly recommend the "Futureproof Career" Program with Anna Schmidt.
Marco M., Director Level, Huawei.
Despite being in a group setting, I developed insights and skills that were effective for the type of person I am and my personal needs at this particular stage of my career. Sessions have been power-packed with information not readily available elsewhere. I received practical tools to turn my goals into concrete action steps. I left the program feeling resilient, having a plan B, and knowing how to fall on my feet if life pivots.
John K., Texas, Dell Technologies
I'm pretty impatient, so for me, the program's most significant benefit is the "work-and-practice-as-you-learn" approach, which optimizes time spent during the group sessions, leaving me with a no-nonsense solution at the end.
Maria P, L'oreal Groupe, Paris.
For more testimonials please visit the Linked profile:
https://www.linkedin.com/in/anna-schmidt-career-expert/
PROGRAM DETAILS
This Program is available globally.
WHEN:
Start of the Program is on Thursday, July 19th 2022 at 18:00h.
Program runs then on Tuesdays (pls see calendar below), from 18:00 - 21:00h
"Never miss a session - Join any time!" You can always make up for a missed session by joining another group.
The info session is on June 7th at 18:30h.
To register please either copy/paste this link:
qrco.de/FUTUREPROOF
or scan the QR code below:

FORM:
Online group sessions.
Each session lasts 180 min (incl. 2 short breaks).
There is 1 session per month. Program consists of 6 sessions.
Unique format of the workshops aids in real-time learning and application of knowledge, ensuring that you get your work done during the course. Group formula allows to benefit from an attractive price offer, yet it is conducted in a way that enables participants to remain fully confidential.
COST:
Early Bird 990 EUR until June 13th, Regular price 1390 EUR.
Payment confirmation:
VAT invoice will be issued by organizer of this workshop: 360connect GmbH in Zürich, where Anna Schmidt is a Managing Partner.
General terms and conditions:
Visit: www.tinyurl.com/msry2nf2 or scan QR code below: