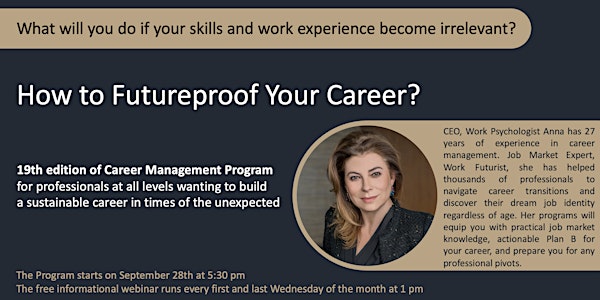 FUTUREPROOF YOUR CAREER 10-step Group Career Management Program
10-step Career Management Program with Anna Schmidt, CEO of Schmidt and Partners and Future of Work Institute, Founder CPI Coaching School
About this event
This program will leave you prepared, and in effect, confident about your future.
You will be equipped with insight job market knowledge, applicable tools and a roadmap to be ready for any career pivots.
Upon completion you will: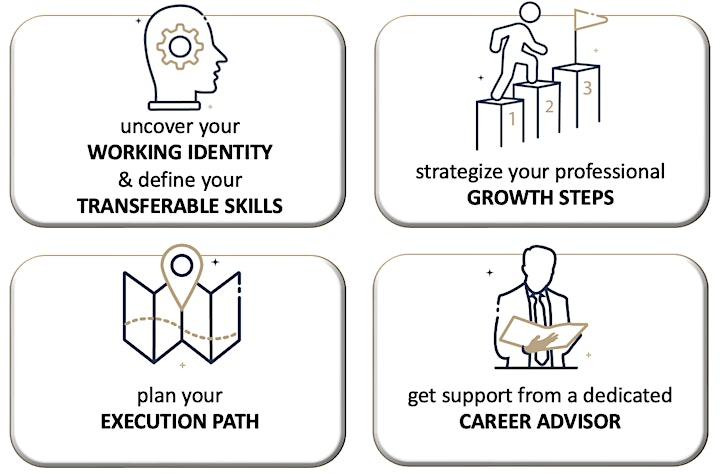 "Futureproof Your Career" group program is Practical, Intensive, Actionable.
I created fully immersive, bespoke "Futureproof Your Career" program with ambitious leaders in mind. It is a tailored combination of knowledge transfer through inside job market advice, coaching, career counseling and mentoring.
I guide you, I share the expertise, provide recommendations and the latest work market data so you can make informed decisions—and I hold you accountable. You will leave the program with concrete tools, Plan B and a personalized Career Growth Plan. You will leave the program feeling confident and calm about your professional future.
Over the 27 years of leading business I have developed the expertise to support clients seeking direction, struggling with burnout, striving to reach a new professional level, and wishing to reinvent themselves or re-ignite motivations.
I help leaders discover what they truly want from their work and design for themselves careers that optimize impact and align with their purpose. All this, while earning high compensation and teaming with people they care about.
Having supported over 6000 leaders in career transition (outplacement, onboarding, advancement), I have gained the experience to help managers grow, adapt, and thrive in disruptive VUCA environments.
In 2012, I found Future of Work Institute – a think tank that researches and develops career-related solutions (engagement, motivation, purpose, gratitude) for organizations and their leaders. I bring first-hand expertise about the future job market to my clients – practical insights and real-life, applicable tools.
I'm privileged to support top talent from:
Disney, 3M, Coca-Cola, Siemens, Biogen, UBS, Credit Suisse, Novartis, ADM, Morgan Stanley, Deloitte, BCG, Accenture, Colgate, IKEA, Dupont, Bayer, Johnson & Johnson, Klarna, Revolut and many others.
After sending hundreds of CVs for over 9 months, I realized that my traditional job search machine is broken. Anna's workshop helped me understand proactive ways and strategies for effective job search.
Darcy, IHG Hotels & Resorts
I learned that I'm not powerless and if I acquire specific skills for this everchanging job market, I will find the job I desire.
Julia, London School of Economics
I was glad to join the program because in just 4 weeks, I've learned what I should have done for the past 34 years of my career - manage it day by day instead of extinguishing fires in moments of job loss. I have learned which concrete actions will lead me to job finding.
Michael L., Managing Director, UBS UK
Career planning and job search are places where you can feel awfully alone. Thanks to Anna and her team, I learned how and where to look. Most importantly, I gained a partner who held me accountable for the goals I set for myself. I was focused and ended up landing a job in 3 months.
Reto H, Procurement Dept., Migros