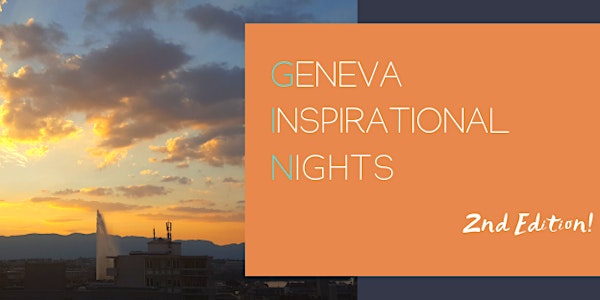 Geneva Inspirational Nights : 2nd Edition!
When and where
Location
Foound - Concept Store / Centre Culturel Rue Jean-Gutenberg 2 1201 Genève Switzerland
Description
Youhouuuuu, I'm really excited to invite you to the second edition of « Geneva Inspirational Nights !

So what is it you ask ?

It's a night where you can come exhausted, hating your life, your job, your boss, your family (we won't tell anyone :p) and leave FULL of ENERGY, JOY, LOVE (yesss cheesy I knowww !), and with enough inspiration to go after your most secret DREAMS!

It's a night where you come to connect with other humans who have decided that they want MORE in their lives.

More happiness,
more craziness,
more ambitions,
more courage,
more love!

It's a night where creators, entrepreneurs, artists, business-owners and any inspiring human (we ALL are !) can come on stage and share an inspiring/vulnerable story about their journey !

Those nights serve two purposes :

1) Inspire those who are thinking about changing their lives to create a business doing what they REALLY love by listening to the stories of others who have already done it.

2) Help entrepreneurs and business-owners to gain some visibility and share their message to a wider audience.

If that sounds like something you would LOVE to join, book your tickets the seats are limited!

Program :

19h : Ice-Melting Game (Way better than Ice-breaking haha)
19h10 : Introduction
19h15 : Networking Game for humans who hate the word Networking :p

19h45 : Speaker 1 (coming soon)

19h55 : "From sickness to impactful business" with Dominique-Cécile, Beautician and Therapist

20h05 : "How not to fail at relationships (when living in Geneva!)" with Romnea, finance woman by day, blogger by night

20h15 : "How to use forces beyond our control to transform our lives and live our dreams" with Caroline Verdier, Fast & Intense transformational coach

20h25 : Speaker 5 (One of you!)

20h30 : CRAZY DANCE (I promise it's really fun)
20h35 : Connection Time !
21h00 : THE END

If you want to speak, please write me at contact@lauranathalie.com with the topic of your talk, and the link to your website if you have one.

Also if you feel like your english is not good enough, don't worry : I'm a native french speaker and mine is far from perfect (I'm sure there is a lot of mistakes in this event description haha), but I chose english because it has the power to bring many humans together.

So If you're ready for some MAGIC in your life, feel free to join !

It is up to us to make it extraordinary.



Lots of love,



Laura


P.S. : I created a Facebook page since I would love to organize those nights at least one a month, feel free to follow/like it !
https://www.facebook.com/Geneva-Inspirational-Nights-2385049498385431