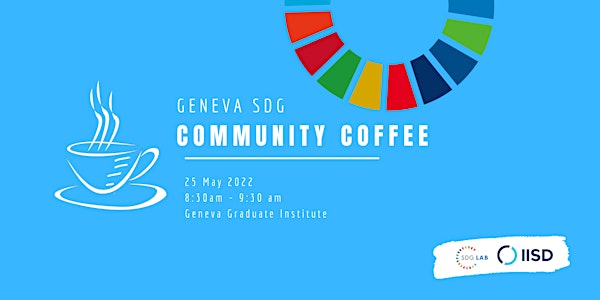 Geneva SDG Community Coffee
Geneva SDG Community Coffee - Young People driving Climate Action
Date and time
Wednesday, May 25, 2022 · 8:30 - 9:30am CEST
Location
Geneva Graduate Institute, Room S4 Chem. Eugene-Rigot 2 1202 Genève Switzerland
About this event
As we look to COP27, please join us as we discuss a topic that continues to be highly relevant: How do we ensure that young people are meaningfully engaged in the climate negotiation processes? And how do international organizations in Geneva work to ensure a youth perspective in their work on climate action?
At this climate-focused SDG Community Coffee, we`ll hear from Marie-Claire Graf, former Global Focal Point at YOUNGO and Veena Balakrishnan, Youth Negotiators Academy, who`s working for a stronger inclusion of young people in international climate negotiations, for example through providing capacity building via the Youth Climate Action platform. We'll also hear from Seon Mi Choi, Climate and Environment Advisor with UNICEF on how they ensure a youth perspective in their climate work.
Taking place every month from 8:30 am – 9:30 am the Community Coffee is a time to connect, exchange, and expand your knowledge of ongoing SDG-related work in Geneva and beyond. Make a stop on your way to work for a chance to meet new partners or reconnect with friends in the community (Click here to see the events calendar).
About the organizer
SDG Lab is a multi-stakeholder initiative that contributes to the implementation of the Sustainable Development Goals.