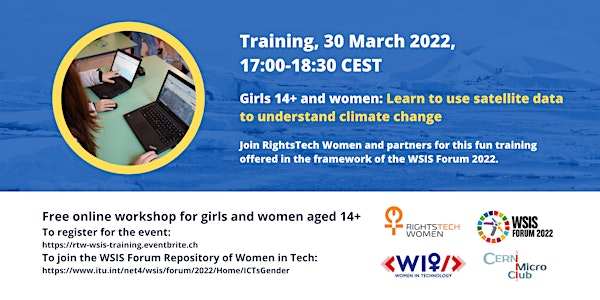 Girls and Women: Learn to Use Satellite Data to Understand Climate Change
RightsTech Women and partners provide girls 14+ and women an introduction to fun programming activities with Google Earth Engine.
About this event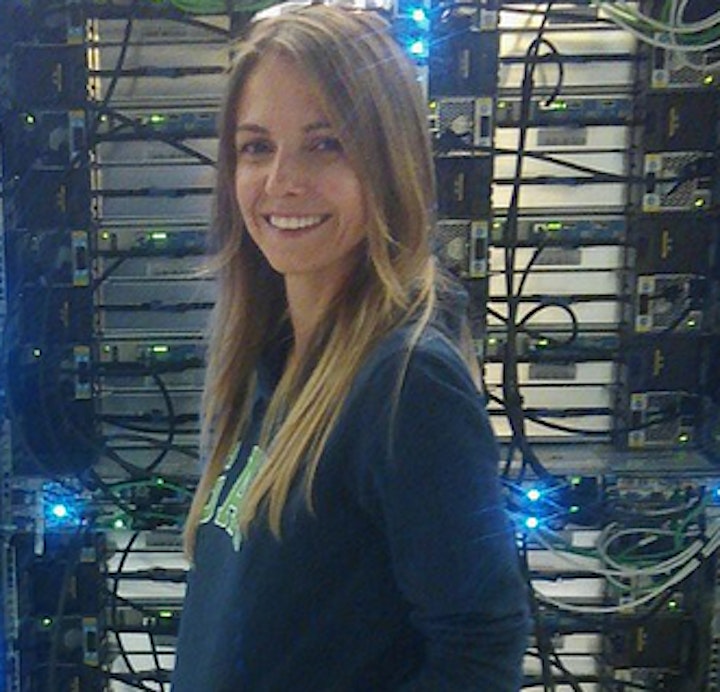 Featured speaker and technical coach, Florentia Protopsalti (CERN)
Event date: 30 March 2022
Time: 17:00-18:30 (CEST)
Registration closing time: 30 March 2022, at 16:00 (CEST)
Who is this training for? This training is for girls and women aged 14 and older. We are working to get more women working in science, technology, engineering and mathematics (STEM), because women are underrepresented in these fields around the world. To make up for this difference, we organize trainings specifically for girls and women.
What experience do I need? No prior programming experience is needed.
Cost: Free.
Format: Online event (via Zoom). You will receive a Zoom meeting link after registering- this will come to the email address you used to order your Eventbrite ticket(s) about a day before the training.
Language: English (assistance in French available but the main contents are delivered in English)
Equipment requirements: You need a computer that you can use at home and a stable Internet connection. Please participate via Zoom using a computer and not a phone.
More about this training:
How can you use satellite data to understand climate change in your community? Join RightsTech Women and partners for an online training exploring this question. In this event:
Gitanjali Sah from the Strategic Planning and Membership Department of the International Telecommunication Union (ITU) will welcome participants. Participants will learn about the WSIS Repository of Women in Tech initiative.
Ellen Walker, from RightsTech Women, will share about the need to get more women working in data science, on climate change issues.
Florentia Protopsalti, a technical coach, will share her career perspectives and experience of working in computing and data science at CERN, the European Organization for Nuclear Research.
Our technical coaches will introduce participants to how you can apply pictures of Earth taken from space to understand climate change in your local area and around the world. We will introduce you to satellite imagery and the process of working with such data to investigate your own questions. We will introduce you to Google Earth Engine, a platform you can use to visualize and understand climate trends such as deforestation, temperature change, and extreme events.
This event is taking place in the framework of the WSIS Forum 2022, in partnership with the WSIS Repository of Women in Tech. The WSIS Forum the International Telecommunication Union's annual World Summit on the Information Society. You can find out more about the WSIS Forum 2022 by visiting: https://www.itu.int/net4/wsis/forum/2022
Important notes:
For women aged 18 and older: Please sign up to the WSIS Forum 'Repository of Women in Tech', here: https://www.itu.int/net4/wsis/forum/2022/Home/ICTsGender. Registration in that is free.
Next, for all participants including girls 14 and older, and women aged 18 and older: Please order a ticket for each participant here in this Eventbrite registration page. Tickets are free.
Instructions to follow after registering in Eventbrite: Once you register for the event in Eventbrite here, you will receive some very easy instructions via email. Please follow these instructions to be sure that you can be ready to participate and follow along in the training on the day of the event.
Cancellations: If something comes up and you learn after registering that you cannot attend this event, please cancel your ticket in Eventbrite as soon as possible to open a space for someone else to register, and send a cancellation email including the name and email address of the registered participant who is not attending to events (at) rightstech.org. We rely on the courtesy of everyone involved when we organize our events; please help us make sure as many girls and women participate as possible. We thank you for your comprehension and cooperation.
Wait list: If you tried to get a ticket but there were not any left, please put yourself on the wait list. We will notify you if a space opens up.
We look forward to seeing you at our training!
-The RightsTech Women Team
https://rightstech.org