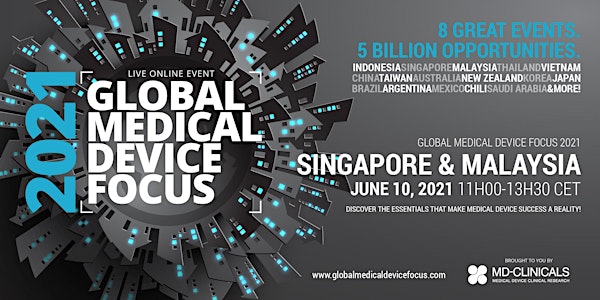 Global Medical Device Focus 2021: Singapore & Malaysia
Global Medical Device Focus 2021: Singapore & Malaysia
Refund Policy
Contact the organizer to request a refund.
About this event
Global Medical Device Focus 2021
Come join the medical device industry's leading experts and authorities in global clinical research and regulatory affairs for an exciting program of discovery and exchange. With a diverse array of topics and discussions to choose from, there's something for everyone at the Global Medical Device Focus 2021. This great opportunity will help participants learn what it takes to successfully plan, implement, and obtain successful medical device registrations throughout various countries and regions around the world.
Business & Regulatory: Discover how you can optimize revenue by planning early for your medical device global market access.
Clinical Evaluation: How to conduct global clinical investigations? Learn what data is needed to access world markets including China.
Live Q&A sessions: You've got the questions; we have the answers!
Event: Global Medical Device Focus 2021: Singapore & Malaysia
Date: June 10, 2021
Time: 11:00am – 13:30pm CET
Program:
• Singapore Implementation of UDI
Hwee Ee Tan, DHReg-Sys
• Malaysia Update on Medical Device Regulation Implementation
Andrew Ho, DHReg-Sys
• Current Experience with Compliance to Medical Device Regulations in Malaysia
• Conducting Clinical Investigations in Singapore vs. Malaysia
Ivon Septriyana, Clinical Project Manager S-E Asia, MD-Clinicals
• Q&A session
For more information about Global Medical Device Focus 2021 or to see all other upcoming live webinar events, be sure to visit: www.globalmedicaldevicefocus.com
Don't miss these great Global Medical Device Focus 2021 webinars, register today!
June 17, Thailand & Vietnam: https://gmdf2021-thailand-vietnam.eventbrite.ch
June 24, Australia & New Zealand: https://gmdf2021-australia-new-zealand.eventbrite.ch
August 26, Korea & Japan: https://gmdf2021-korea-japan.eventbrite.ch
September 02, South America: https://gmdf2021-south-america.eventbrite.ch
September 09, China & Taiwan: https://gmdf2021-china-taiwan.eventbrite.ch
September 16, Middle East: https://gmdf2021-middle-east.eventbrite.ch