Global Teal Meetup for the Americas is a chance to connect new indeas and inspire each other on all things teal-ish.
About this event
This is the second quarterly Americas Global Teal Meetup.
This month we feel honored to have best selling author and renowed teacher David Bradford with us to share insights from his most recent book, Connect: Building Exceptional Relationships with Family, Friends, and Colleagues.
David is the father of the most popular course at Stanford Graduate School of Business. Touchy Feely, as it's known by the students, takes an intense deep dive into interpersonal dynamics. GSB Grads regularly claim this course as the most influential in both their careers and their lives.
The concepts from this class time in perfectly with the Teal Concept of wholeness.
Agenda
Opening & connection - 20 min
Fireside Chat with David - 35 min
Q&A with David - 15 min
Group Break-outs - 30 min
Closing - 15 min
The event is free, and we would request that you buy a copy of David's new book, Connect, which he co-authored with fellow Stanford Professor Carole Robin. We can guarantee the insights in the book will far exceed the sticker price.
Don't know about Teal? That's totally fine! Everyone is welcome to this event. If you are curious, check out this Teal Overview
We'll be in the Reception Zoom starting at 1 pm PST at https://zoom.us/j/93234771032?pwd=N3RBcFBXWUg0ZnJvQjBNNVJNM3Z1QT09#success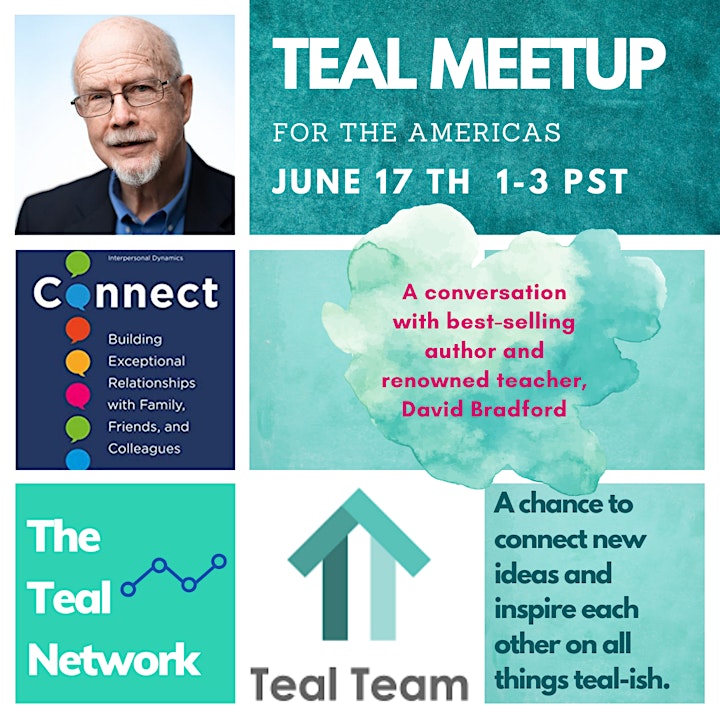 Organizer of Global Teal Meetup Americas - June - Featuring David Bradford
Come on over and join our LinkedIn community!
Would you like to keep the conversation going and follow up with like-minded pioneers?
We have an active community on LinkedIn called The Teal Network, if you would like to come and introduce yourself there. It's a very supportive community.