Global Teal Meetup for the Americas is a chance to connect new indeas and inspire each other on all things teal-ish.
About this event
The Global Teal Meetup is an opportunity to explore concepts like wholeness, self-management, and evolutionary purpose and how we can leverage them to improve organizational structures and collaboration dynamics.
In this fourth quarterly Global Teal Meetup for the Americas, we will explore how to build a collaborative team culture in our organizations with the help of Vanessa Urch Druskat, Ph.D., the Associate Professor of Organizational Behavior at the University of New Hampshire.
Vanessa is passionate about helping teams build a collaborative culture that values the views of all members. She is currently working on a book that focuses on the sense of belonging and its influence on team collaboration and performance. Her thirty years of research have earned her a global reputation as a scholar-practitioner with an actionable, human-centered message.
Agenda:
Opening and connection: 20 min
Fireside chat with Vanessa: 30 min
Q&A with Vanessa: 10 min
Group breakouts: 45 min
Closing: 10 min
We'll be in the Reception Zoom starting at 12pm PST at:
https://zoom.us/j/93234771032?pwd=N3RBcFBXWUg0ZnJvQjBNNVJNM3Z1QT09
This event is free, and everyone's welcome. If you don't know about Teal but are curious about it, check out this overview!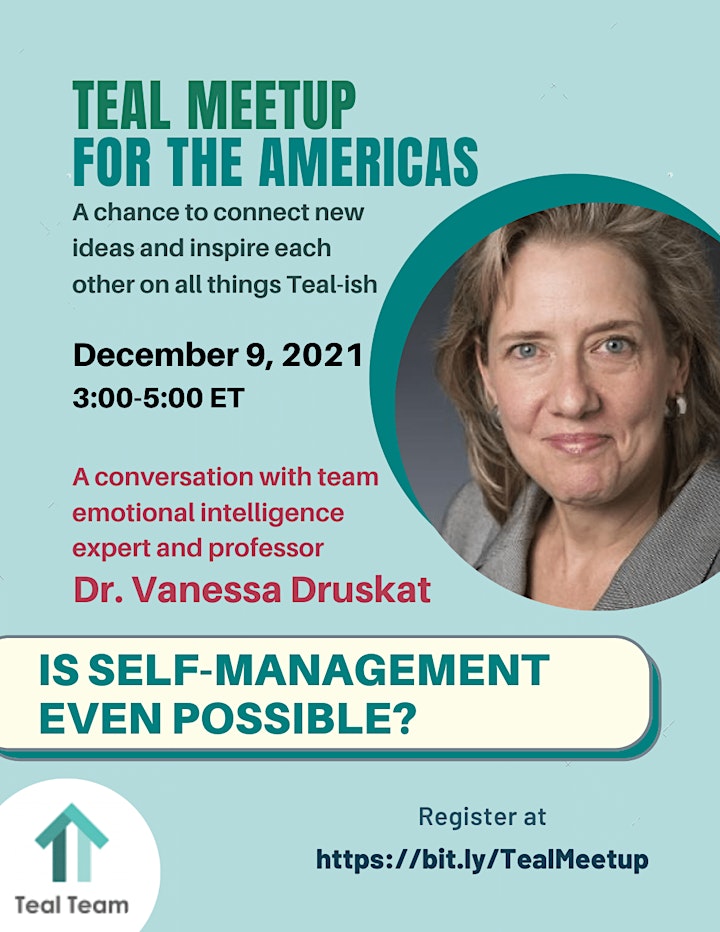 Organizer of Global Teal Meetup for the Americas - Featuring Vanessa Druskat - December
Come on over and join our LinkedIn community!
Would you like to keep the conversation going and follow up with like-minded pioneers?
We have an active community on LinkedIn called The Teal Network, if you would like to come and introduce yourself there. It's a very supportive community.