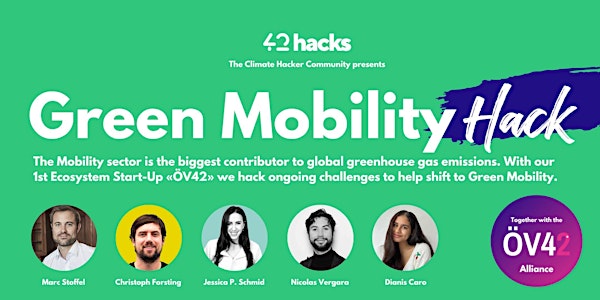 Multiple dates
Green Mobility Hack
Fun People, Serious Impact. An engaging Online Event Series using Open Innovation to «hack the Climate». Current Topic: Green Mobility.
Date and time
Fri, 24 Jun 2022 06:00 - Fri, 8 Dec 2023 08:00 PDT
About this event
Who is 42hacks?
42hacks is an internationally growing Climate Hacker Community aiming to close the gap between Climate Promises and Actions.
We believe in the power of collective creativity and open innovation delivered through fun and engaging hackathon formats.
We work for people and the planet, not for profit. Our Cooperative is registered in Switzerland but our community member base reaches from Finland to the US.
Together with entrepreneurs, start-ups, scientists, artists, climate justice experts, and citizens we want to positively impact the planet and help reduce Co2 emissions.
Are you curious and care about the Climate and how it affects our planet and people? Join us!
How can I join?
Joining is almost as easy as watching Netflix and will leave you feeling energized (yes, even on a Friday afternoon¨)!
Simply register for our current event about «Green Mobility» (topic may evolve in the future) and attend our regular and hugely popular Climate Friday Hacks.
Once you join, you can choose between the different streams:
AI & Tech: How can technology help make better use of existing infrastructure and predict human mobility behaviour?
Travel Experience: What groundbreaking ideas will disrupt the travel experience on public transport?
Next Generation: What needs to future generations have and how can public transport be made 'sexier' than driving your own car?
Behaviour & Science: How can behavioural science indicate how to influence people's choices when it comes to Green Mobility?
What can I expect?
The most meaningful and fun meeting of your work week!
The Friday Climate Hacks follow a well-developed Open Innovation format. They are fun, engaging, and always mission-driven.
We start by a quick introduction to onboard everyone into our virtual workspace. Please be on time to make the most out of your experience.
You choose your stream based on your interest and we get straight to work. An experienced facilitator team will guide you together with other participants through the session.
We leave time for discussion, share-back, and presentations at the end.
The session takes 2 h with an added «Lounge» at the end to connect with people in a relaxed and casual environment. –An amazing way to end your week, drift into the weekend and meet new people.
Please note: Most streams will be held in English, others in German. We adapt according to the participants.
Do I need to prepare anything?
No homework is needed. Come with a smile and eagerness to make a positive impact for the climate crisis.
Some technical tips:
When you login to our event, we recommend to use Google Chrome as the default browser, have a good internet connection and using a laptop. Joining from your smartphone won't work to fully immerse and collaborate.
Why a Hackathon?
Disruptive + Fast + Fun = Mindblowing, High Impact Results
A Hackathon (short: "Hack") is a word deriving from 'hacking' (= to disrupt) and 'marathon' (= fast and continously). In our Core Team of entrepreneurs as well as design thinking and innovation experts, we tested different formats and THIS has proven to work best to achieve:
Enabling an Open and Creative Collaboration
Harnessing Collective Intelligence
Being highly inclusive and involving both experts and people like your grandma
Delivering innovative results at a level of Speed and Quality hardly any other approach can match
Am I the right person for an Online Climate Hackathon?
Do you care about Climate Change and want to make a difference? Then you are the perfect candidate for our Friday Climate Hacks!
Don't shy away if you haven't used online collaboration tools yet. We will onboard you and make sure everyone feels welcome. Our community consists of people from various backgrounds and we guarantee you that everybody can contribute!
Our current topic revolves around «Green Mobility», which touches many facets of our lives and the world. Be curious, have an open mind, and meet wonderful people from around the world.
I love 42hacks' Mission and want to get involved more. How can I reach out?
Fantastic! We love returning participants to our Friday Climate Hacks and people who want to dedicate more time and energy to work on creating better futures for all of us! Join our group of volunteers and continue the conversation on Slack.
To get access simply contact us via our website https://www.42hacks.com
We look forward to having you!
About the organiser
We are a community of climate hackers and start-up entrepreneurs. Together we fill the gap between climate promises and protests. We believe in the power of hackathons, talents and ecosystems. Joining is almost as easy as watching Netflix. And feels way better! Just dial-in in one of our Friday Climate Hacks listed.