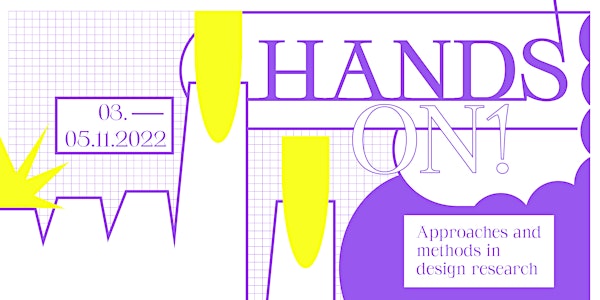 Hands On! Approaches and methods in design research
The Hands on! conference of the HKB Master Design is dedicated to current approaches and methods relevant to design and to design research.
When and where
Location
Bern Academy of the Arts HKB Fellerstrasse 11 MA Design Atelier 3027 Bern Switzerland
Refund Policy
Refunds up to 7 days before event
About this event
Over three days invited experts introduce the students and a limited number of outside listeners to why and how they do what they do. Find out about topics such as visual storytelling, holocratic corporate structures or discovering one's own agency for shaping the future. Each contribution consists of an input of twenty minutes and a workshop of two hours.
- - -
Thursday, 3 November 2022
PARTICIPATORY RESEARCH METHODS – Inclusive forms of participation and expression of opinion by Beatrice Kaufmann
How can people who are difficult to reach through conventional participation formats be addressed and animated to participate in a low-threshold and appealing way? Using practical examples, the input and workshop invite participants to think about integrative forms of participation and the expression of opinion. The "Sticker Walls" method will be tested at the HKB and its surroundings.
Beatrice Kaufmann is a researcher in the fields of social design and health care design at the Institute of Design Research at Bern Acadamy of the Arts HKB. Besides, she works as a freelance graphic designer and illustrator.
TELL AND SHOW – Using visual storytelling to strengthen your design research by Linda Meijer-Wassenaar
As design researcher, you gather visual and/or tangible information to collect insights and engage with your participants. But how can you use this research material as visual support to reach out to your audience? By using the simple, narratological phrase "tell and show" you can pinpoint where your research story needs support. In this workshop, Linda will show you examples of her master students and lets you practice with ways to use visual storytelling in your own design research.
Linda Meijer-Wassenaar has a background in sociology (MSc) and design research (MA). At the Master Design Research (WdKA), she teaches about visual storytelling. As auditor, she adds design research to the work of public audit institutions. And she is board member of the Dutch Infographics Conference.
- - -
Friday, 4 November 2022
The Swiss Center for Design and Health is a national technology competence center and a research institution of international significance. At the interface of design and health, it combines interdisciplinary evidence-based academic research and private industry projects with a focus on knowledge and technology transfer. Founded in 2019 as a public-private-partnership, it is strongly supported by public and private partners from business and academia. The SCDH conducts research, teaching, projects and practice advisory, from idea generation to prototyping up to the development and launch of innovative new products. It currently employs eleven people and is based in Nidau near Biel.
ISSUE MAPPING – From problem solving towards systemic problem identification by Dr. Jan Eckert
This workshop provides a basic introduction into Actor Network Theory, Systems Thinking and Issue Mapping as proposed by Bruno Latour, Donella Meadows, Kaja Tooming Buchanan and Jan Eckert. By analysing a selection of case studies participants gain first insights into the social, economic, cultural or ecological circumstances and relevances that might drive systemic issues. In a sub-sequent step, participants develop a visual vocabulary and syntax in order to map out their own systemic issues that are meant to highlight actors, drivers and areas of friction.
Dr. Jan Eckert is Head of the Living Lab at the Swiss Center for Design and Health – Switzerland's national competence centre at the interface between people, healthcare, design and architecture. His expertise reaches from interior architecture towards design science with a specific focus on systems thinking and evidence-based design.
- - -
Saturday, 5 November 2022
FUTURES LITERACY – An approach to creating collective intelligence and attention to the use of the future by Eva-Maria Spreitzer and Stephan Hartmann
Our input will build on UNESCO's work on futures literacy as a new approach for discovering one's own agency which empowers people to actively take part in creating and shaping our future. In the workshop "A futures literacy laboratory on the future of work" we will collectively experience the approach which encourages you to start exploring to "use the future" more consciously on a concrete topic. This use can lead to a new capability to embrace uncertainty differently – namely as a lever for more reflexive actions in the present.
Eva-Maria Spreitzer's work as a researcher and practitioner of transformative learning and design processes aims to help people better realise their own potential and develop more creative futures. She has a background in social sciences with a focus on social innovation, which she acquired at the University of Cambridge.
After abandoning his design practice and his work at an agency, MA Design alumnus Stephan Hartmann became a partner at the Think & Do Tank Dezentrum. He studied Visual Communication and Design at the Bern Academy of the Arts HKB and digital management at Hyper Island in Manchester.
HOLACRACY FOR CREATIVE PROFESSIONALS by Nightnurse
Holacracy is a self-management system which became increasingly popular among organisations looking for novel solutions to common problems and limitations of top-down hierarchical management systems. This short introduction to Holacracy and a deeper dive into a governance process aims to give a taste of what self-managementcan offer to creative professionals.
Nightnurse Images is a creative agency specialized in architectural rend- erings and animations, with offices in Zurich, Buenos Aires and New York. The company started transitioning to self-management five years ago and operating since over three years fully under the rules and principles of Holacracy.
- - -
All revenues are donated to the HKB scholarship fund. If you are unable to purchase a ticket for financial reasons, please contact us at mad[at]hkb.bfh.ch. The conference will be held on site. There will be no live streaming or hybrid setting.