Eventinformationen
Veranstaltungsort
Sackzelg 34
34 Sackzelg
8047 Zürich
Switzerland
Join us for this workshop to discover new healthy ways to enjoy this holiday season without all the stress and anxiety that comes with this
Zu diesem Event
When was the last time you looked up at the holiday lights and felt like dancing?
Would you like to enter the holidays with enthusiasm and excitement?
Would you like to fully relax and enjoy a cup of tea or a cheeky drink with family and friends?
Do you find yourself putting your health needs on the back burner during the holidays thinking "I can start again in January"?.
What if you could enjoy the holiday without losing sight of your health goals?
Would you like to learn how to maintain your health all while enjoying a healthy level of hedonism during the holidays?
If your answer to the above is YES please, then join us for this great holiday refresher.
During the holidays we tend to throw our health goals out the window in lieu of holiday parties, sweets and a shot of over indulgence to get over the stress
This workshop will help you reactivate and re-engerise the inner child whilst keeping anxiety at bay and bring your health and well being in the forefront.
Together we will help you put gratitude first on your shopping list followedconscious moments of joy, peace and authentic moments.
Join us for this fun and informative workshop.
Testimonials
Lize K.
Angela quickly got to the root causes of my health issues and provided suggestions for where we could improve our nutrition. I immediately felt more energetic and noticed a change within my family as well. I think what was most surprising was the change in my mindset, I found myself less overwhelmed with making healthy choices. I would recommend Angela to anyone but especially moms who tend to focus on their family first and not themselves. I am grateful how she helped me obtain a broader view of my health, for all the great recipes and checking in on me regularly.
Zara K.
Celine is talented individual. From the moment we connected, I felt the gift and light within her. She is compassionate, understanding, and intuitive. Her abilities to guide and mentor come from the heart. She is certainly touched by the angels. A Divine Power works through her to give you guidance and understanding to any situation you present her with. Her knowledge and wisdom is beyond her years, an old soul willing to help you, care for you when you feel alone. She has no judgement, and has an open heart to all individuals. She heals with love and points you in the right direction. Anyone who connects with her will be truly blessed, just as I am. I am thankful for remarkable presence and energy in my life.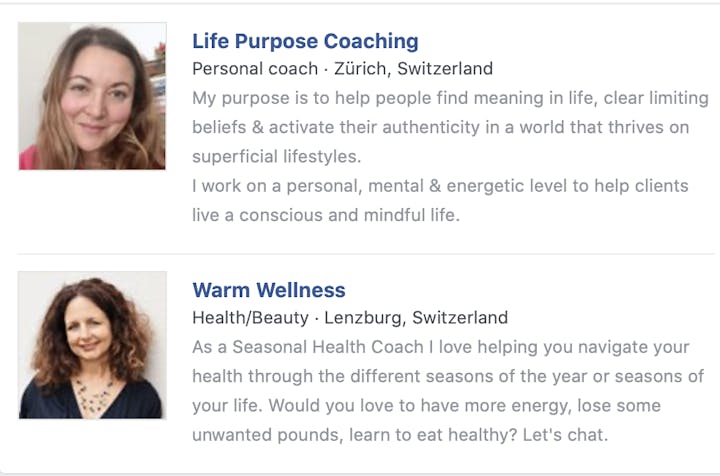 Datum und Uhrzeit
Veranstaltungsort
Sackzelg 34
34 Sackzelg
8047 Zürich
Switzerland