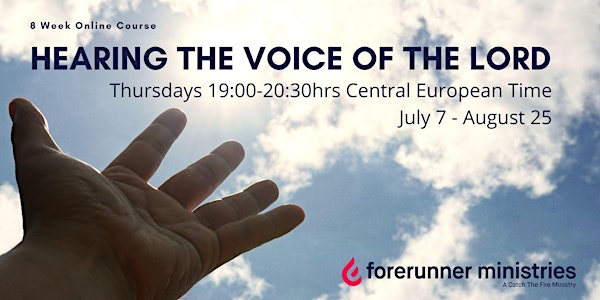 Hearing the Voice of the Lord
Get Positioned to Hear From God
About this event
If you believe in Jesus then you need to be able to hear his voice, but is this even possible today? If you did hear something that might be from God, how could you be sure it was God and not just your thoughts?
My name is Franklyn Spence from Forerunner Ministries and I have a passion for seeing the body of Christ experience a more intimate, personal relationship with God. I know nothing will build your relationship with Jesus better than hearing from him for yourself. Join me and my co-presenters Phil and Graham as we help you experience breakthrough in your relationship with God.
Over the next eight weeks, you'll be educated on how to discern what thoughts are coming from you, and what are messages from God. Learn about the different ways the Lord speaks and how to position yourself to hear from him. This course will teach you how to recognize what the Lord is saying to you and will give you the tools to respond in faith.
Filled with lots of personal testimonies and solid scripture-based teaching this course will position you to take your prayer life to next level.
8 Week live course with teaching and discussion taking place on Zoom.
This course is part of our online level 2 membership platform. We are delighted to welcome new members and let you try out our program for 2 weeks completly free. If you would then like to continue with us, there is a monthly membership fee of $19.98 that includes weekly live teachings and a whole bundle of online courses , disounts, downloads and more. Learn more about our memberships here.
About Forerunner Ministries
We are a Christian ministry with a solid online presence whose primary focus is to help believers experience a deeper relationship with the Lord. We've been touched by the Holy Spirit and are perusing revival. Through sharing transformational journeys, we help create a community of people searching for meaningful connections with the Lord and other Spirit-filled believers.
Forerunner Ministries is led by Rev. Franklyn Spence and his wife Amy and is part of the Catch the Fire global network of churches where Franklyn serves as the Western Europe Regional Leader, He also serves in Leader's Alliance as the Prophetic and Intercession Catalyst Leader. Franklyn has published two books, Breakthrough to a Supernatural Life and Point of the Spear. Forerunner Ministries is located in Basel Switzerland where they have planted an english speaking church.