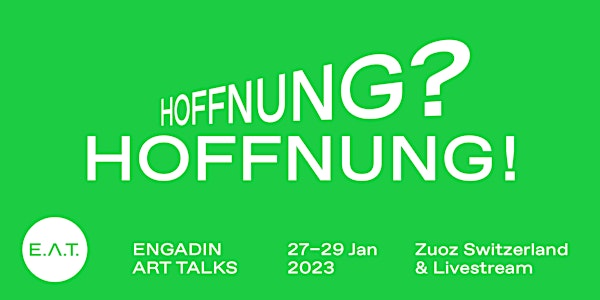 HOFFNUNG? HOFFNUNG!
Forum of Art, Architecture, Design, Literature and Innovation
When and where
Location
Hall at Plazz, Village Square Hall at Plazz 7524 Zuoz Switzerland
Refund Policy
Contact the organiser to request a refund.
About this event
This year's annual gathering titled HOFFNUNG? HOFFNUNG! organised by the E.A.T. / Engadin Art Talks and taking place at the Hall at Plazz, Village Square in Zuoz, encourages a deeper understanding of hope as an intrinsically human state of mind and as a fundamental driving force.
The weekend's public programme sees the participation of international speakers from within and outside the creative field, thus enhancing a plurality of voices. Participating speakers include artists, architects and landscape architects, authors, scientists, sustainability and humanitarian experts whose practice deals with the environment and notions of togetherness, both physical and verbal.
The gathering in Zuoz covers a range of topics that span from the artistic practices of musician and artists Aïsha Devi, Matthew Lutz-Kinoy, Ernesto Neto, Ai Weiwei, and Barbara Solomon Stauffacher; the exploration of humanitarian, social, cultural, and political issues with Kenneth Roth, Joachim Gauck, Francesca Bria, Mohomodou Houssouba, and Uli Sigg. The search for novel responses to the climate change crisis will be explored through the work of sustainability experts Cédric Carles, Loïc Rogard, and Catherine de Wolf, while an investigation of new visions of our social lives will be addressed through the work of landscape architect Bas Smets and architect Sandi Hilal.
The detailed programme will soon be available at www.engadin-art-talks.ch
General public hours
Saturday, 28th of January 2023: 10am – 1pm; 3pm – 6pm
Sunday, 29th of January 2023: 10am – 1pm